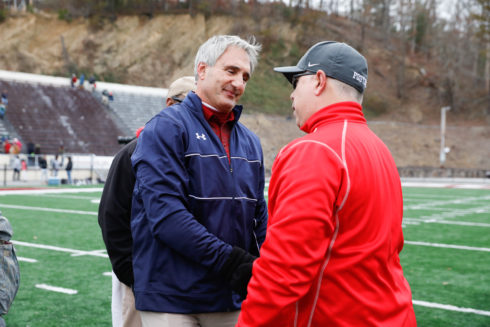 PARKERSBURG, W.Va. — Although four schools in the Super Six have an extensive history of reaching this stage, a major change is coming this weekend in Wheeling.
For the first time, instant replay will be permitted at the Super Six, with turnovers and potential scoring plays eligible to be challenged by coaches in each of the three games.
Each team will have two challenges throughout regulation and overtime, regardless of how many are won or lost. Teams will not have a timeout taken away should they lose a challenge.
"We have the technology available and if we can get it right, that's what we want to do," WVSSAC clinician Larry McCloy said. "That's our objective. Hopefully we don't need to use it, but it is there if we have to."
Coaches will have a red flag to throw onto the field when they want a play reviewed.
McCloy is responsible for determining the outcome of a challenge and will relay his decision to the officials. McCloy is a 27-year official and spent 17 as rules clinician and interpreter for the Ohio/West Virginia Football Officials Association.
DV Sport has access to all five angles of the MetroNews broadcast of each game, and McCloy will be stationed on the sideline to look at those angles during a challenge.
"I will review the play and then determine if the call on the field stands or is overturned," McCloy said. "We want to get it out as quickly as possible just to keep the game moving. We never really set a timeline on it. We just want to do our very best to get it right."
In January, it became the choice of the state association to use instant replay in the postseason. 
McCloy added the average time of a challenge for three states that have experimented with it— Minnesota, New Jersey and Alabama — was about 1 minute.
"There's been a lot of success and the coaches liked it," McCloy said. "If we can get the call right for the student athletes, that's what the objective is."
Wheeling Central head coach Mike Young likes the idea of replay as his Maroon Knights are preparing for the Class A title game Saturday night against Doddridge County.
"When you get to a championship and have to make a decision on a play that can be very controversial, it's huge to have the replay to look at and make sure you get it right," Young said. "Also, it gives a coach some type of satisfaction that you are able to challenge it and be wrong. It's like make me right or make me wrong and it's validity of what's really occurred. It's a great idea."
Bluefield head coach Fred Simon, who like Young is no stranger to the sideline at Wheeling Island Stadium, is also in favor of coaches being able to challenge. Simon's Beavers meet Bridgeport on Friday night in the Class AA final.
"I'm for it. Officials are human and they make mistakes and don't mean to do it," Simon said. "It's unknown to me, so we'll have to see how it plays out. But If it ends up being the right call, it won't bother me one bit."