CHARLESTON, W.Va. — State Lottery Director John Myers says he feels pretty good about how his agency has approached sports betting and iGaming after comparing notes with lottery officials in Pennsylvania.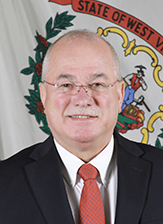 "They are set up very familiar to how we are. It's kind of a relief. It gave us a little confidence that we're headed in the right direction," Myers said.
A group from the West Virginia Lottery traveled to Pennsylvania for a meeting. West Virginia already has sports betting up and running but it's working on iGaming. Pennsylvania already has iGaming working out of a couple of casinos.
Myers said what they've learned is the work done on sports betting will help in the establishment of iGaming.
"The initial build-out of the iGaming system–they can almost take the new games, which will come in a suite and they can lay that right on top of a sports wagering-type of platform," Myers said. "It's not going to be as labor intensive or to take as long to get out as sports wagering."
A bill passed by state lawmakers earlier this year established iGaming giving the Lottery more than a year to design and implement regulations at the state's five casinos. The sites will be able to run land-based casino games, such as poker. iGaming can only be played by someone physically in the state, like the sports betting rules.
Myers said the iGaming emergency rule should be in place by next summer.
"The May to June timeframe, so that will allow us, with the time that we're allotted to get the permanent rule in place to get beyond the legislative session (in 2021) and file the permanent rule," Myers said.
Myers expects iGaming to bring in about the same kind of money as sports betting which has a 10 percent tax rate for the state on money bet at the casinos and through mobile apps.
"The tax rate is 15 percent in iGaming and 10 percent in sports wagering but with the number of people we have I expect the same revenue generation," Myers said.