CHARLESTON, W.Va. — Gov. Jim Justice promised a rocketship ride for West Virginia's economy when he first ran for governor.
Now, as he kicks off his fourth year, Justice says it's more like a lightning bolt.
While the rocketship goes straight up, the shape of the lightning bolt sometimes flattens out. Justice made the symbolic switch while holding up placards to illustrate his point on Wednesday evening during his fourth State of the State speech.
"When I walked in the door, I said I was going to take you on a rocketship ride. And we've been on this rocketship ride," he said during a speech that lasted about an hour and a half.
"Now, I want you to be really smart. The one thing I am is a business guy. And I'm going to tell you nothing that remains going straight up or straight down is healthy. So at the end of the day, what I want you to do now is change. And I want you to come on this lightning bolt ride with us. Because that's where we will go."
He used the illustration to say the budget proposed by his administration would be conservative.
At an earlier primer on the budget, state officials said revenue estimates for the coming fiscal year would be $108 million below last year. That's due in large part to a slowdown in energy markets, particularly lower natural gas prices and a dropoff in coal exports.
State leaders plan to bridge that gap by spending reserves, providing enough cushion for some new initiatives.
"The state of our state is strong"
Justice's prior State of the State addresses have included theatrics such as an impersonation of Frankenstein's monster to illustrate a financial crisis, illustrations on whiteboards, covered platters with Hersey Kisses to give to legislative leadership and a cheer from the basketball team he coaches at Greenbrier East High School.
At the latest, Justice pushed for continued progress on the state's roads by having orange safety jackets passed out to lawmakers. He put one on himself, joking that it was labeled Size 7X.
"I want us to all put one of these jackets on," he said, proposing a cheer for roadwork. ("And then when you leave, I want the jacket back.")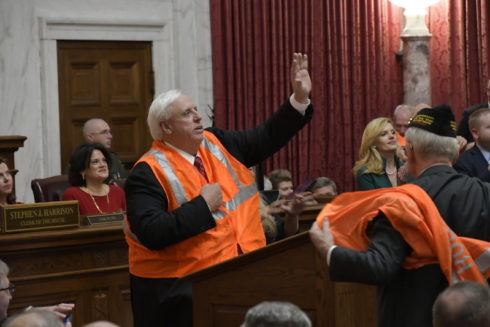 And in a callback to his inaugural address, Justice brought back out a hatchet and tackle box. He again told the story of encountering a down and out woman along a rural road as she attempted to sell some of her last few belongings.
Justice said he bought the items for a total of $200 to help the woman and has been carrying them in his trunk since then. He used that story to describe the tough times the state has gone through, saying the economic picture is improving.
"When I walked in the door, things were pretty tough. And I'm not patting myself on the back in any way. I want to say without question nobody does anything alone," Justice said.
"Ladies and gentlemen, the state of our state is strong. And it's growing stronger every day."
Even though state leaders anticipate little give on the approximately $4.7 billion general fund, Justice and his administration propose some additional spending initiatives.
That includes a $150 million rainy day fund for Medicaid spending in case times get tough in future budget years.
It also includes eliminating the wait list for children who need financial help to deal with intellectual/developmental disabilities. That's a $19.7 million investment.
"My budget will include the funding to eliminate the wait list," Justice said.
The administration also proposes spending an additional $26.4 million on child protective services, where about a third of workers turn over each year.
Another $2 million would be marked for a backpack program for kids and $1 million would be for food banks.
Also, Justice is asking for $1.9 million to establish a Narcotics Strike Force. He provided little indication about how it would work but did make a promise.
"I want to look right in the camera and tell anybody who is coming in the state with drugs, we are going to bust your ass," the governor said. "That's all there is to it."
Justice also endorsed a state fund to promote capital investments, the elimination of the property tax on equipment paid by manufacturers and an intermediate court of appeals.
"We need to do it, and I think we can get it across the finish line this year," he said of the court.
Responding to the comments Justice made in his speech, Democrats described continuing drug addiction problems, economic struggles and population loss.
"We need to grow West Virginia," said Delegate Isaac Sponaugle, D-Pendleton.
Senator Bill Ihelenfeld, D-Ohio, added, "As much as it pains me to say it, the picture isn't as bright as the governor painted tonight in his State of the State address."
Ihlenfeld said the State of the State should have included a description of the hard facts.
"The governor needs to tell us those things and not give us so much spin," Ihlenfeld said. We're proud, we're hard-working, we're resilient. We can deal with that, and we would have more respect for the governor if he would give it to us straight."
One of Justice's Republican primary competitors in the upcoming election also leveled criticism.
"West Virginians deserve more than props," said former Commerce Secretary Woody Thrasher.
Thrasher said Justice didn't level with West Virginians. He referenced the ongoing drug crisis and population loss.
"The grandparents raising 72 percent of students in Logan County know we aren't on a rocket ship ride," Thrasher said. "Countless parents burying their teenagers ravaged by addiction know we aren't riding a lightning bolt."
House Speaker Roger Hanshaw, R-Clay, described progress in shoring up the state budget, increasing pay for state employees and dedicating money to fixing roads.
"We're ready to work together over the next 59 days to pass initiatives that continue to spur job growth, drive business investment and improve the quality of life for everyone in our state," Hanshaw stated.
Senate President Mitch Carmichael, R-Jackson, was glad Justice wants to eliminate the property tax on manufacturing equipment and the waiting list for the IDD waiver program.
"In all, I believe the Governor offered a variety of ideas that are designed to move West Virginia forward, and he couched it with the proper caution that comes with being fiscally responsible," Carmichael stated.
Final words from the coach
Justice, concluding his speech, again described himself as a coach leading a team of West Virginians.
"I love you, I love this great state, I love all that we stand for," he said.
He finished by saying, "And all I can say now is go win the gold. God bless you."