MORGANTOWN, W.Va. — A smaller window in the regular season and season cancellations in neighboring states have caused several athletic directors and head football coaches to shuffle their 2020 schedules. Many of the state's premier programs are affected. Several schools have multiple openings on their slates with less than four weeks remaining before the scheduled start of the regular season.
In short, the state of Virginia has pushed their football season to the winter/spring. No sports will be contested in Maryland until after January. Kentucky has delayed the start of their season by two weeks. Pennsylvania's status is very much in doubt after Gov. Tom Wolfe recommended football not be played this fall. And in Ohio, football practices have begun but Gov. Mike DeWine has not given the clearance for scrimmage or game competition.
The OHSSA announced on Friday that regular season schedules can be shortened to six games for teams that wish to compete in the playoffs.
Adding in the fact that West Virginia's regular season has been shortened from eleven to ten weeks to play ten games, almost every single team in the mountain state has had to alter their original schedule. Many teams, including some perennial state title contenders in the northern and eastern panhandles, are affected.
Bluefield (12-2 in 2019, Class AA runner-up): No team was impacted more by the postponement of football in Virginia than the Bluefield Beavers. In addition to their season-opening rivalry matchup with Graham, who they share Mitchell Stadium with, the Beavers lost matchups with three other Virginia squads. Bluefield has scheduled a home-and-home series with county rival Princeton. In addition to their regularly scheduled matchup on September 4, which the Beavers will host, they will also visit the Tigers on September 25. Bluefield has also added a game at Parkersburg on October 16.

Bluefield's Shawn Mitchell (4) celebrates (Photo by Marcus Constantino)

George Washington (8-4 in 2019, Class AAA quarterfinalist): The Patriots are one of four West Virginia teams that may not open the season until September 11. GW was scheduled to face Ashland Blazer from Kentucky on September 4. However, Kentucky schools can't open play until September 11. The Patriots did add a home game against Class AAA quarterfinalist Musselman on September 25. That will be the first home game on the new turf at Steve Edwards, Sr. Field.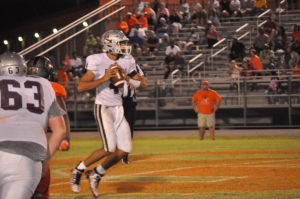 Keyser (10-2 in 2019, Class AA quarterfinalist): The Golden Tornado lost multiple games against Maryland schools but have replaced two of those matchups. KHS will visit Class AA semifinalist Oak Glen on September 11 and will host Jefferson on October 16. One open date remains on their schedule.
Madonna (6-4-1, Class A first round): The Blue Dons originally had seven out-of-state opponents on their schedule but that number will certainly change. Madonna has six Ohio opponents but four of those games are now scheduled after Ohio teams are set to conclude their respective regular seasons in the state's new playoff format. MHS has added a second game against Trinity, creating a home-and-home series.
Martinsburg (14-0, Class AAA state champion): The four-time defending state champs show just seven games on their schedule at this point. Three Virginia opponents and one District of Columbia opponent are off the slate for the Bulldogs. Martinsburg has found one new opponent. They will visit South Charleston on Sept. 18. It will be one of two road trips to the Kanawha Valley. The Bulldogs are scheduled to visit Cabell Midland on Halloween night. The other five games for Martinsburg are their traditional eastern panhandle rivals.
Musselman (8-3, Class AAA quarterfinalist): Just like Martinsburg, Musselman will hit the road for a long trip to George Washington on September 25 in a matchup of 2019 quarterfinal squads. The Applemen have also added a game against Holidaysburg, Pa. Musselman pushed back their home game against the Class AA state champs from Bridgeport, allowing the Indians to schedule Huntington on October 30.
Oak Glen (12-1, Class AA semifinalist): Ted Arneault Jr. has been burning up the phone lines for schedule changes and games that could potentially be moved. The Golden Bears have seven games scheduled, recently losing games against East Liverpool and Harrison Central after Ohio's announcement Friday. They also lost a pair of Pennsylvania opponents and have since added games against eastern panhandle teams Keyser and Spring Mills.
Wheeling Central Catholic (10-4, Class A state champion): The three-time defending champs were originally scheduled to face seven out-of-state opponents from Pennsylvania, Ohio and the District of Columbia. The Maroon Knights added a road trip to close out the regular season at Petersburg but some of their five games against Ohio teams could be in doubt.