(Neal Brown pregame press conference)
MORGANTOWN, W.Va. — It will be a game against an FCS opponent in a nearly empty stadium. But after nearly six months of pandemic-caused uncertainty, the Mountaineers will finally get to take the field against a team in a different color jersey. West Virginia will open their 2020 season Saturday afternoon against an Eastern Kentucky team that was blanked by Marshall last Saturday, 59-0.
"I definitely doubted if we were going to play this fall," said WVU junior linebacker Josh Chandler-Semedo. "A lot of things were uncertain. Practices were uncertain. Lifts were uncertain. As far as getting to a game, you couldn't really imagine it. But the closer we got to it, we were like it is going to happen. The staff did a great job."
"This is a week where it is about us," said WVU head coach Neal Brown. "We are excited to have the opportunity to play. We are a work in progress. It is time to play. We have practiced long enough. We've got a lot of work to do.
"You've got a depth chart. But those jobs are still very much open. We will be competing all week. Whether that is accurate come game day or not, we will see. We are going to have competition at almost every single position this week in practice as we continue to prepare for our first performance on Saturday."
Only family members of the players and coaches and essential game day personnel will be permitted entry to Milan Puskar Stadium, creating an environment more similar to a practice than a game.
"This is a very unique season," senior safety Sean Mahone said. "It is going to be a lot different. During practice, we have to bring the juice. We know we are not going to have fans so we have to be fans for ourselves. It will be different. But football is football. I am grateful we have the opportunity to play this year."
"I want to make sure that our fans understand we will miss them on Saturday," Brown said. Unfortunately, we can't have them in the stadium but we will be thinking about them. It will not be the same. In a season where a lot of things are going to be abnormal, that is going to be the most difficult challenge for our players and the one that is the most unfortunate."
Saturday's game will be the first for the Mountaineers' since their season-ending victory at TCU on Thanksgiving weekend last fall. With a bye week prior to the scheduled Big 12 Conference opener at Oklahoma State on September 26, Saturday's game could feature a streamlined playbook with a focus on the basics.
"That is a good challenge," said WVU offensive coordinator/receivers coach Gerad Parker. "You get to the point here, where do you get things on film that you want to see, based off and comparing to what you are good at. Everyone that supports us and is in the building, we all want to go out there and play clean. So you have this balance of how cute to be, so to speak, compared to how clean you want it to be and execute. I sure hope we err on the side of being clean.
"If we are able to get out there and play penalty-free, especially our pre-snap penalties, and we go out and execute what we know, we are more concerned with that than anything the opposition will do."
"We are going to be extremely simple," Brown said. "We feel like our base offense and our base defense, we have to get better at that. We don't have those reps logged that we normally have in a spring practice or a summer. We have continued and simplified what we are doing after about two weeks of camp and trying to identify what the quarterback was good on offensively."
With all players on the roster essentially operating on a free year of eligibility granted by the NCAA, expect to see many players get a taste of playing time on Saturday.
"We are going to play a lot of people. A lot of those freshmen are going to play. It is important. We are going to play anybody that has proven to this point that they are ready to play in a game, we are going to give them an opportunity."
Brown met with the media Tuesday for the first time since naming junior Jarret Doege as his starting quarterback. He won the job over senior Austin Kendall.
"I don't know if it is something he did better," Brown said. "He was probably more consistent, going back through the entirety of fall camp."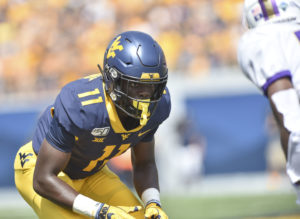 Brown said that sophomore cornerback Nicktroy Fortune is back with the team. He returned home following the death of his mother in August. Brown said Fortune will play Saturday.
"He continued to condition while he was away from the team," Brown said. "He was away for almost two entire weeks.
"We encouraged him to stay with his family during that time. He stayed in really good physical shape. He was able to Zoom into our position meetings, so he had a good deal about what was going on at practice."