(Neal Brown postgame Zoom conference)
MORGANTOWN, W.Va. — Much like in their last trip to Austin, the Mountaineers had an opportunity for late-game heroics at DKR Texas Memorial Stadium. On this day however, a pair of fourth quarter trips to the end zone produced no points for West Virginia as the Mountaineers fell at Texas, 17-13.
In both of those failed possessions, Neal Brown opted to go for it facing fourth-and-1. The results were similar, a pair of incomplete passes into the end zone.
"Today was on me," Brown said. "It comes down to two fourth quarter fourth downs in the red zone. I want people to understand I don't regret going for it. There's all kinds of data that says it is the right thing to do by going for it. In this league, you better score touchdowns there to win. That is proven week in and week out."
"Being down in the fourth quarter and going into the end of the game, we usually want the ball to be in the offense's hands instead of the defense," said WVU wide receiver T. J. Simmons. "I was hoping we would get the opportunity in order to go down there and make the game-winning drive to win the game like last time. It just didn't happen that way."
Both teams scored touchdowns on their opening possessions of the game. Texas marched 75 yards on 7 plays setting up Sam Ehlinger's 7-yard touchdown toss to Brennan Eagles. West Virginia immediately responded with a 75-yard drive of their own. On the ninth play of the drive, Leddie Brown took it the final 12 yards, tying the score 7-7.
On the first play of the second quarter, Texas kicker Cameron Dicker split the uprights from 34 yards and the Longhorns took a 10-7 lead into the locker room.
West Virginia received the ball first in the second half and took nearly five minutes off the third quarter clock. The drive stalled in the red zone but Casey Legg connected on a 25-yard field goal to tie the game 10-10.
Texas however came up with a big play in their passing game to retake the lead. Ehlinger found Jake Smith near the goal line for a 33-yard scoring connection, giving UT a 17-10 lead. The Mountaineers responded with a 34-yard field goal in the final minute of the third and they trailed 17-13 going to the fourth. West Virginia let an opportunity for 6 points slip away when Winston Wright could not corral what looked to be a sure touchdown toss in the end zone.
In the fourth quarter, West Virginia's two possessions covered a combined 16 plays for 109 yards. Both ended in the red zone on failed fourth-and-1 opportunities. WVU attempted passes into the end zone from the 16-yard-line and the 8-yard-line, both falling incomplete.
"The first one probably could have gone either way," Brown said. "We could have kicked a field goal or gone for it. I really liked the play there. We had people open but we just didn't connect.
"The second one, I didn't think we had a choice. We had a missed signal so we had to use the timeout there. We only had one timeout. So I knew it was going to be difficult. I felt like we had to in that situation."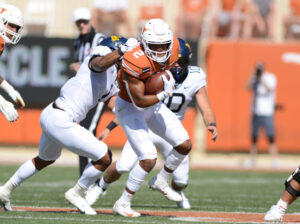 Doege passed for over three-hundred yards for the fourth consecutive game. He completed 35-of-50 passes for 317 yards. Nine different Mountaineers caught at least two passes. Simmons reeled in 4 receptions for 71 yards. Leddie Brown was limited to 47 yards on 15 totes. Neal Brown said Leddie was 'dinged up' early in the game. He played sparingly in the second half.
"We just had a really difficult time on the interior with those guys," Brown said. "I was a little bit surprised. But they played well. That was the lowest I have seen those guys play. We struggled to get any kind of run game going."
Texas signal caller Sam Ehlinger collected his third win against the Mountaineers. He went 15-of-31 for 184 yards and 2 touchdown tosses. He also rushed for 39 yards.
"Our object was to keep him in the box and not let him roll out and make as many plays throwing the ball. I feel like we did that to the best of our ability today."
West Virginia held Texas to a season-low 17 points and their 363 yards of total offense represented their second-lowest output of the year.
"Defensively, our kids have played really hard. I think they are flying around. They blocked us better today in some pass protection stuff," Brown said. "If you take the first two drives of the halves out, I thought we really played well against these guys."