— Story by Taylor Kennedy
MORGANTOWN, W.Va. — West Virginia looks to capture its third in-season tournament title in four years. The Mountaineers will face off against the Western Kentucky Hilltoppers. Tip-off is set for 1:30pm, and you can watch it on ESPN.
West Virginia is coming off a 12-point victory over VCU Thursday afternoon. Junior Derek Culver shined with 23 points and 15 rebounds. It was the second time Culver recorded 20-plus points and 15-plus rebounds in a single game. The first time he did this came in his freshman year against TCU. He recorded 22 points and 21 rebounds. 
Sean McNeil tied his career-high with 16 points against VCU. He recorded his career-high the night before against South Dakota State. The Mountaineers' starting five combined for 66 of the team's 78 total points.
Western Kentucky is coming off an impressive 75-69 win over the Memphis Tigers. The Hilltoppers were led by Naismith Award Watch List member Charles Bassey. Bassey had his way against the Tigers recording 21 points, 14 rebounds, and 7 blocks.
This will be the third time that Rick Stansbury has faced off against West Virginia. Before coaching Western Kentucky, Stansbury spent 14 years at Mississippi State. Stansbury was the coach when former Mountaineer Darris Nichols hit the game-winning three-pointer in the 2007 NIT Championship game. Stansbury is 2-1 all-time against the old gold and blue.
West Virginia Connection
It seems wherever you go or whatever you watch you will find someone having connections to West Virginia. In this afternoon's game, former Poca Dot Luke Frampton will compete against his home state's university.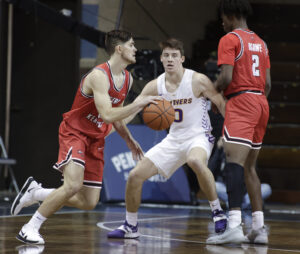 Frampton transferred to WKU during the summer of 2020, and he was granted immediate eligibility. Frampton started his collegiate career with the Davidson Wildcats. He started in all 39 games he appeared at Davidson, including 34 as a redshirt freshman. As a redshirt freshman, he was the second Davidson player to hit 100 three-pointers in a single-season.
At Poca, Frampton was a three-time all-conference player. He helped lead the Dots to an undefeated season and the school's second state title in 2015.
Series History
This afternoon's matchup will be the fifth all-time meeting between these two programs. Western Kentucky has won the last two games against West Virginia. The series is tied 2-2.
The last meeting came back in 2018 in the semifinals of the Myrtle Beach Invitational. The Hilltoppers defeated the WVU 63-57. Three of the top four scorers from that WKU team are back on this year's team. Taveion Hollingswort, Charles Bassey, and Josh Anderson combined for 38 of WKU's 63 points. Jordan McCabe is the only player on this year's roster that played against the Hilltoppers back in 2018.
The other three matchups came in 1987, 1959, and 1942. The average win total between these two programs is three points.
Players to Watch
WVU – Junior Sean McNeil has had a hot start to this young season. In the first two games of the 2020 season, McNeil has produced back-to-back games of double-digit scoring. The Union, Kentucky native posted career nights in scoring tallying 16 points in consecutive nights.
McNeil scored 10 or more points six times last year, but none were consecutive double-digit performances. McNeil finished tied for first on the team in three-point percentage shooting 33% last season.
Western Kentucky – Charles Bassey has played well in the Hilltoppers first two games. Bassey's seven blocks against Memphis were the most by a Western Kentucky player since 2011. He also became the 19th player in Division 1 since 2010 to record 21 points, 14 rebounds, and seven blocks.
Bassey was recognized on the Conference USA preseason men's team, and he was listed on the watch list for the Naismith Trophy College National Player of the Year award. Bassey suffered a season-ending leg injury last season. He started in the first 10 WKU games last season.