West Virginia's state school board unanimously passed a motion that would prevent county school systems from opting for remote learning after Jan. 19, countermanding decisions that had already been made by several local boards.
"We need to take the lead and with flexibility and, working with the superintendents across the state of West Virginia, that's the way it's going to be," state school board President Miller Hall said.
The motion would, however, allow boards to select hybrid schedules with students in classrooms just a couple days a week and learning outside the class the other days.
High schools still would be shut down if the state's map of coronavirus spread turns red. That would not apply for schools at the PreK to 8th grade levels. County leaders could shut individual schools or classrooms over health concerns.
Families who have opted for remote learning, which is different, may still make those individual choices.
The state board settled on the specifics after a couple of hours of discussion.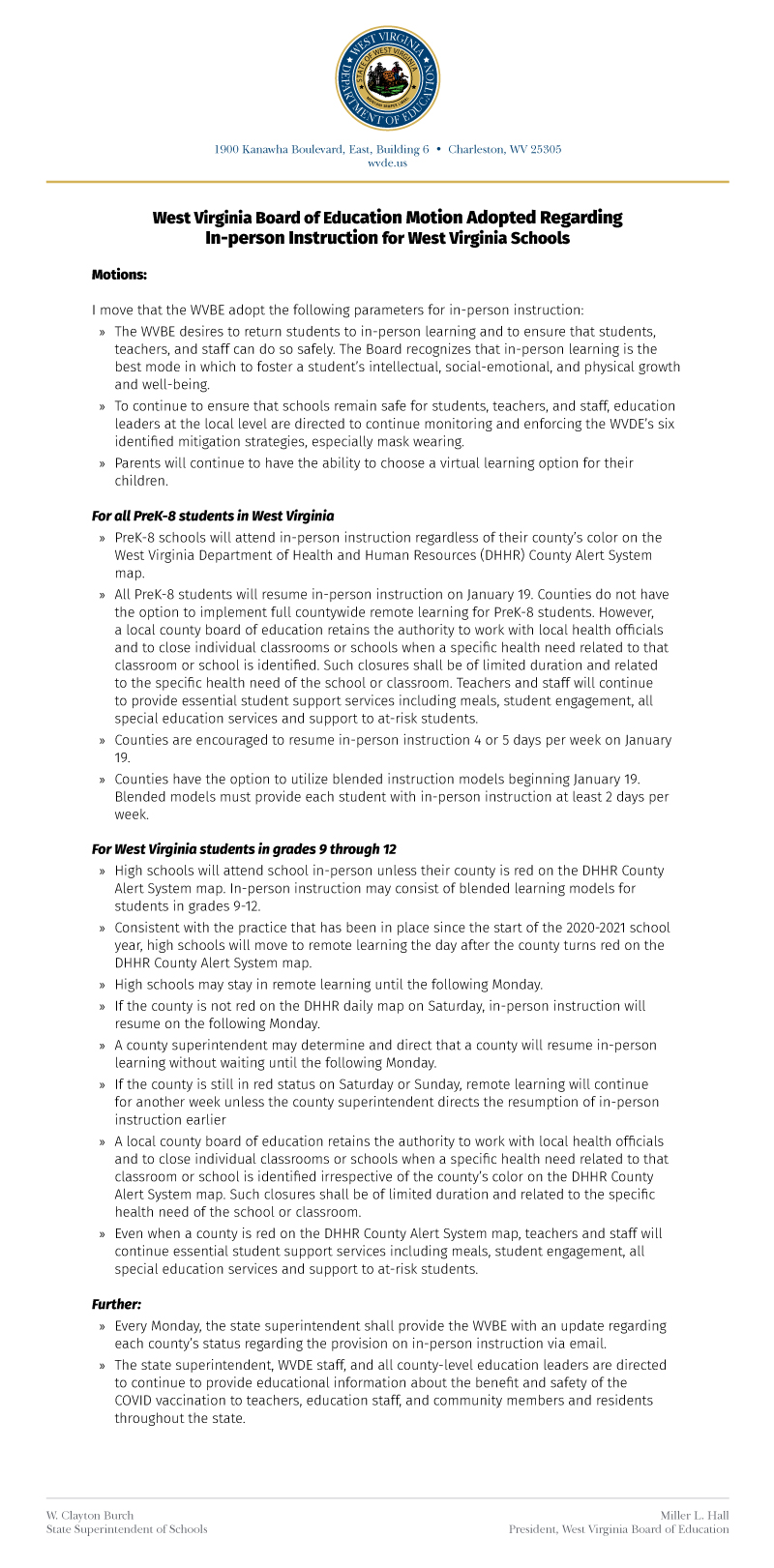 Kanawha County's board had just decided this morning to remain on remote learning until Feb. 8, although the local board included a provision allowing a change depending on the state board's actions. That would mean implementing a blended schedule now that the state board has weighed in.
The Monongalia County's school board voted Tuesday night to stay remote until Feb. 12. Preston County voted Monday night to continue remote learning until Feb. 8.
Speaking today at a briefing, Gov. Jim Justice said of the state board, "they govern whether or not our schools are open or not open."
The governor names the members of the state board.
Justice has indicated he believes schools are safe with social distancing precautions. And he has expressed concern that students are falling behind.
"How many times do we have to hear, our students need to be in school," Justice said. "How many times do we have to hear the tragedy by our kids not being in school?"
Virtual learning programs are still available in all 55 counties for West Virginia families. Today's WVBE motion does not change virtual school options. The WVBE adopted parameters for in-person instruction because health data supports a safe return to school.

— West Virginia Department of Education (@WVeducation) January 13, 2021
At today's state schools meeting, board members Scott Rotruck and Nancy White each asked what would happen with the earlier county decisions. "We need to be clear, too, that we're not usurping their actions," White said at one point.
Superintendent Clayton Burch responded, "Our recommendation to superintendents was if they could wait until the state board took action it would probably be in their best interests."
Heather Hutchens, general counsel for the state board, later said counties would likely have to reconsider their votes.
The state board's decision was preceded by a discussion of pandemic actions by Burch, who has often described remote learning as an emergency strategy rather than an ideal educational process. "Children fall off the grid," Burch said.
"In many cases, remote learning cannot be in the same sentence as 'education'"
He described inconsistencies from school to school and among individual students.
"It's really, really all over the board with what these remote plans look like," Burch said.  "The bottom line is, when we go to remote settings it's not accessible to all."
More impassioned remarks came from state board President Hall.
Hall indicated some students who are supposed to be learning remotely are opting not to do the work because their parents can't make them. "Remote learning is not what it's cut out to be," he said.
He added, "If we wait until this virus ends, we may never go back to school."
Hall's remarks emphasized safety measures such as adherence to face coverings. He also emphasized that all school personnel who are offered the vaccine should take it.
"I strongly encourage each of you to get it where it's offered to you," he said.
The West Virginia Education Association released results of a survey showing most members are not comfortable returning to classrooms right now. The state's daily map of coronavirus spread shows most counties on red or orange, the highest levels.
The WVEA results showed most members would be more comfortable returning to classrooms would feel more comfortable returning to classrooms on a hybrid schedule or if they have all had their vaccinations completed.
State officials today said 19,000 vaccinations will have been administered to teachers and staff by the end of this week. That number is mostly those 50 and older but might also include some whose health conditions make them vulnerable.
State education leaders said most educators want the vaccine, describing about three-quarters. About 12,000 are left on the public schools waiting list, state officials said.
"I really believe we're working through these things as best we can" Justice said. "I believe we're going to have our schools open statewide on the 19th."