MORGANTOWN, W.Va. — With 5:58 to play in the third quarter, WVU head coach Mike Carey collected his team for a huddle and only seven healthy players were there to join him. Somehow, the No. 19 Mountaineers found a way to get past TCU, 81-78 on Senior Day at the Coliseum, giving WVU their 17th win in 20 games.
Starting two-guard Kysre Gondrezick did not play in the second half due to injury and point guard Madisen Smith was shaken up on a play midway through the third quarter. Smith returned to the bench on crutches late in the game with an ice pack on her left leg.
"Needless to say, it was a gut-check," said Carey. "Give those girls that were on the floor at the end a lot of credit. It seemed like we kept losing a player and we were able to pull out the win."
Carey did not have an update on Gondrezick's and Smith's conditions immediately after the game.
West Virginia scored the final 13 points of the first quarter to erase an early deficit and take a 24-19 lead.
TCU took the lead early in the second quarter but the Mountaineers went on an 9-0 run to take a 36-28 lead. Lauren Heard however scored 24 points in the first half and a personal 7-0 allowed the Horned Frogs to even the score at 36-36. WVU led at halftime, 42-38.
Despite the injury to Gondrezick, WVU expanded their lead to a game-high 14 points early in the third quarter, 56-42. TCU would trim the deficit to five points at the end of the third, 62-57.
WVU would never relinquish their lead in the fourth quarter yet TCU made several mini-runs, creeping within a point at the 8-minute mark and within two points a handful of other times. With 40 seconds left, KK Deans' drive to the hoop put WVU up 78-74 and they were able to hold on down the stretch.
"Playing defense was long. Every possession mattered. We all locked down and got the job done," Deans said.
"Like they always say, one man down, next man up," said WVU junior forward Kari Niblack. "It just sucks that we had two down today. My girls stepped up today. We had a lot of heart and pulled out a win on our home floor."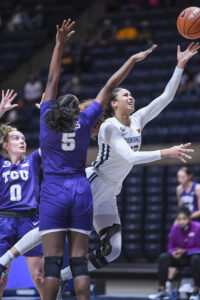 Esmery Martinez led the Mountaineers (17-3, 11-3) with 21 points and 12 rebounds. Deans filled the stat sheet with 15 points, 9 assists and 6 rebounds, stepping into the point guard spot.
"The effort KK gave was unbelievable. She doesn't play point guard," Carey said. "Once we settled down and started running some stuff, we were able to get some scoring."
"I came out of high school as a point guard," Deans said. "I did very well with that. I look forward to situations like that."
"She hasn't played point guard all year, except for in practice," Niblack said. "She stepped up in a huge way."
Gondrezick scored 14 points before her injury. Jasmine Carson scored a dozen off the bench and Kari Niblack scored 11.
Jayla Hemingway returned to the WVU lineup from injury for the first time in a month and played 20 minutes, 2 minutes shy of her season-high. She scored 4 points and drained a pair of critical free throws in the final minute.
"She didn't score a lot of points but she came in and did a lot of good things. She hit a couple big foul shots down the stretch and did a great job defensively," Carey said.
Lauren Heard led TCU (8-11, 3-11 Big 12) with a career-high 38 points.
The Mountaineers will visit Iowa State (14-8, 10-5 Big 12) Wednesday night. WVU defeated the Cyclones 65-56 in Morgantown on February 3. West Virginia will play their final four games of the regular season on the road against ISU, Kansas State, Kansas and Baylor. The Baylor game was recently rescheduled for March 8.
"It is a big challenge with a healthy team," Carey said. "So it is going to be even more of a challenge without a healthy team."
(Mike Carey postgame Zoom conference)