(Neal Brown Zoom conference)
MORGANTOWN, W.Va. — Spring practice will begin soon as Neal Brown and his coaching staff continue to put the pieces together for Brown's third season in Morgantown. The exact date of when official spring drills will open is not yet known.
"We had some COVID issues at the beginning of February where we lost a number of guys for about a week. We'll probably extend our winter program at least another week, maybe two," Brown said Thursday afternoon.
The annual Gold-Blue Game remains scheduled for Saturday, April 24.
When the Mountaineers eventually take the field for the first of fifteen official spring practices, Brown will challenge many of his veteran defensive players to become more versatile by learning different spots within their position group.
"The focus for our spring defensively is we have to get our best players on the field at the same time. We are really going to push some growth for some guys. For example, Akheem Mesidor had a really good freshman year. We really need to get him where he can play both inside and outside. Josh Chandler needs to be able to play both linebacker positions. Tykee Smith, who has played at a high level, we want to get him some experience playing at the deep safety as well."
Safety is perhaps the most-experienced position on the Mountaineer defense thanks in large part to the return of a pair of seniors. Sean Mahone and Alonzo Addae have both opted to return for an additional year of eligibility.
"We've got Sean Mahone, Alonzo Addae, Tykee Smith and Scottie Young. With Kerry (Martin), it is going to take him a while where he has been out. We want to make them more versatile. They can use the spring to not only play one position but they can learn multiple positions in the secondary. We've got to have some flexibility where they can play more defensive backs as well. We'll challenge them."
And the starting quarterback will be…
Three scholarship quarterbacks are currently on the WVU roster. Jarret Doege is the incumbent. Will Crowder is an incoming freshman. And Garrett Greene is entering his second season in the program. He appeared in the Eastern Kentucky and Iowa State games last season.
"For Garrett, this is a huge spring. He graduated early and had the opportunity to go through spring ball last year but only got two practices in. Things were going so fast that he didn't know which way was up, honestly. During COVID, he had an opportunity to learn but he really missed those live reps. He got every 'Monday Night Football' rep and grew. There were some ups and downs in the fall. I didn't think it was fair to him to put him out there. You have to be careful with quarterbacks about playing them before they are ready."
Doege owns an 8-5 record in just over a season as the starting signal caller. Brown says added mobility in the pocket can benefit his game.
"With Jarret, he has some things he has to work on. I don't think anybody is going to mistake him for Lamar Jackson. He has to continue to improve his movement in the pocket," Brown said. "We have to improve on our ability to hit the deep ball. I thought he did a great job taking care of the football. He didn't play very well in the bowl game, I think that has been noted. But he didn't lose us any games."
Who's next?
Brown mentioned a number of up and coming players from the developmental program that will receive additional opportunities to compete in the spring. They are bandits Lanell Carr and Taurus Simmons, defensive lineman and Bluefield native Sean Martin, linebacker James Thomas, cornerbacks Jackie Matthews and Daryl Porter, Jr., offensive lineman Jordan White, receiver Sam Brown and running backs Tony Mathis Jr. and A'Varius Sparrow.
Creating depth in the backfield
Senior running back Leddie Brown eclipsed the thousand yard mark last season, averaging 5.1 yards per tote while scoring nine touchdowns. His status as the incumbent starter is secure so the spring will be essential in finding Leddie some running mates. Incoming freshmen Jaylen Anderson and Justin Johnson will enter the mix while Mathis, Jr. and Sparrow hope to climb the depth chart.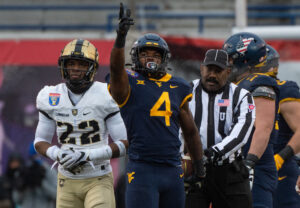 "I don't think we put too much on Leddie. We've got to be more productive when he is not in the game. And we have to do a better job offensively getting him the ball, rather than just handing it off to him. Tony and Sparrow are going to get plenty of opportunities. We'll definitely be careful how we use Leddie, especially in our live situations because he is already proven. We'll use spring to keep him sharp. We've got to get better in a couple of our run schemes. He'll continue to make strides as a pass catcher."
The need for speed (and explosive plays)
West Virginia finished fourth in the nation in total defense (291.4 yards per game) last season and the offense added six points per game (26.5) from their 2019 total. Brown says the need for 'splash' plays at every position, offensively and defensively, takes on added importance for WVU to compete with the top teams in the Big 12.
"Outside of Leddie, we didn't win enough in those one-on-one situations, whether that is breaking tackles or making people miss. That's where a lot of your explosive plays come from. That's why our explosive plays weren't as high as they need to be.
"Defensively, our pass rush needs to be better. I think AJ (new defensive line coach Andrew Jackson) will definitely help us in that regard. But when we get in one-on-one opportunities, we have to do a better job of winning in those situations to create pressures and sacks."
Many of the top receivers on the depth chart will return next season and Brown acknowledges that wideouts have to be better with their one-on-one battles as well.
"We want to catch the ball at a higher percentage. It is a fundamental issue, it is not a lack of ability. We have got to be better at explosive (plays), and that is everybody offensively. We have to protect better. We have got to make more plays on contested catches. The quarterback has to do a better job of getting it in the right spots."
Next phase in recruiting
With an incoming freshman class of just sixteen players, Brown has retained some flexibility on the ever-expanding transfer market. Spring Valley grad and former Virginia Tech offensive lineman Doug Nester was signed in late-December. Cornerback and linebacker remain positions of need.
"Maybe at the end of spring, we'll have a better opportunity to get the type of player we need to come in and help us with those open spots. We found one in Doug, but we are not going to reach. We have probably reached for maybe one or two transfers since I have been here. The rest have been pretty good hits."