CHARLESTON, W.Va. — John Gibson of Poca, West Virginia and his buddy Terry Legg spend a lot of their weekends chasing catfish on the Kanawha River.
"We know every inch of that river from Gallipolis, Ohio to Marmet," he laughed.
The two were in a catfish tournament on the weekend of April 24th which started with decent weather. But it took a cold front and a change in conditions to get the fish active.
"We started out in Point Pleasant and had fished our way back up river. We were about a mile past the Leon cell tower. The weather was sunny when we started, but then the clouds moved in and it started to rain and that's when the fish got active," he explained.
Watching his electronics, Gibson slowly rolled along until he got a hit which stopped him cold.
"We saw a mark on our fish finder that took up all of the fish finder. We said, 'We're going to fish right here.'" he explained.
Listen to "John Gibson from W.Va. Outdoors on catching a state record drum" on Spreaker.

Using cut shad they cast lines into the water, including one he put within six feet of the bank. Within ten minutes, Gibson explained a fish hit and nearly pulled the rod out of the rod holder. He grabbed the rod and immediately assumed it was a massive catfish on the other end.
It was a fight with drag disappearing at an alarming rate, but eventually he was able to gain the upper hand and turn the fish back toward the boat. Soon, the fish surfaced. It wasn't a catfish, but instead a massive drum, and not just any drum.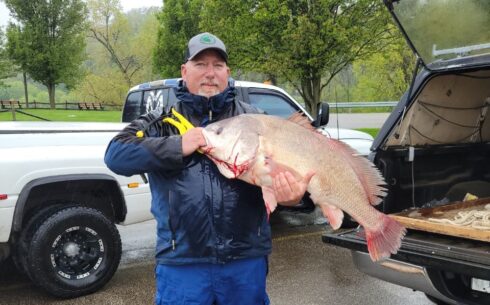 "I looked at Terry and said, 'What's the state record for drum?' He said he didn't know and I told him we need to look it up," he laughed.
Legg managed to get the information from his phone and realized the state record was in the 27 pound range. When Gibson put the monster fish on his scales it registered 28.42. He put it into the live well, started the circulation and kept fishing since there was an hour left in the catfish tournament.
Eventually they would boat two catfish before heading to the weigh-in. Back at the dock, Gibson put the fish on the certified scales of the tournament and it read 28.17. It had already lost a few ounces. He called DNR biologists who came from the Apple Grove Hatchery. About an hour and a half, and several more ounces later, they were able to officially certify the fish as a state record at 27.88 pounds. The official length was 35.59 inches, missing the record for length by 7/8ths of an inch.
Gibson said he wasn't surprised. He and Legg have done well fishing the same route and in the same manner.
"We've caught several drum, we've caught walleye, sauger, largemouth bass. We've caught a lot of different species fishing like that. I also caught the state record gar fishing like that, but I didn't realize it was the state record and turned it loose," he said.