MORGANTOWN, W.Va. — Cornerbacks, offensive linemen and long snappers share a common characteristic. More often than not, they get more easily noticed if something bad happens that was their responsibility. It comes with the territory, particularly in the last line of defense as cornerbacks often are.
To play that position, a corner must have a great physical tool set and the mental toughness to have confidence and short memories. Nicktroy Fortune has added those features to his game in 21 contests and two seasons in the Mountaineer secondary.
"Growing up, I always had confidence in myself," Fortune said. "At the college level, I was thrown into the fire my freshman year. Confidence got tested a little bit. I got beat a couple times. The biggest thing was just knowing that even the greats get beat. When you get beat, you have to keep your head held high. So I just did a good job of, if I got beat, knowing how I got beat and then coming back again and trying to make a play. It took me until the end of my sophomore year to really learn that. When I learned that, the sky was the limit for me."
In 2019, Fortune was pressed into playing time as a true freshman, making a pair of starts and taking the field in eleven games. His confidence took a few dents in the middle of the season.
"The lowest it got was when I was thrown in the Texas game and gave up that touchdown. It got really low, because at that point I was a freshman. Going to the sideline, you could hear people in the background being negative. That is the lowest it definitely got.
"For me, how I was able to get out of that was that I am a big believer in my faith. So it was a lot of prayer. It was talking to my brothers, who are like my therapists now. And I was just reminded myself who I am as a person. I am here for a reason. I am playing at West Virginia University, a Division I program. I didn't come here to not play, a came here to make an impact."
Last fall, Fortune started in all ten of West Virginia's games. He made 35 tackles and collected his first career interception.
"Going into this season, (confidence) is really high, the highest it has ever been. I know for a fact there won't be anything that would ruin that or mess that up."
While Fortune figures to lock down one of the starting cornerback spots, the departure of Dreshun Miller to Auburn leaves a quality position battle on the opposite side of the field.
"Daryl Porter, Jackie Matthews and Charles Woods, they have been doing their thing this fall. We are really close. I feel like that is the biggest thing. We have hung out before. So that was the biggest thing going into the fall, to make sure we had each others backs.
"As far as freshman Andrew Wilson-Lamp, he has been learning. Sometimes he can get down a little bit but we always do a good job, being the older guys, of bringing him up and letting him know that it is okay to mess up. He has a long way to go but he is stepping up as well."
So far in preseason training camp, Fortune has found himself primarily lining up against a trio of veteran wideouts.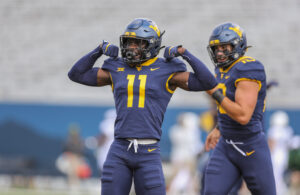 "Isaiah Esdale, Sean Ryan and Bryce Wheaton are the main guys I have been going against. Going against them, it is never a time where I got up and this might be a chill rep so I am cool. With them, every time I walk up or I am playing off, I know that if I don't bring it, they are going to bring it."
Like all cornerbacks, Fortune must strike a balance between handling his coverage responsibilities and being aggressive to create a 'splash' play.
"I have made it a big emphasis since the spring to just walk up and press. There's times where coach had to tell me to chill, relax, you can play off on this one. But I definitely have been taking a lot more risks and been a lot more aggressive. If I see something, I am going to jump it. I went from playing conservative to being a lot more aggressive. To make next-level plays, you are going to have to take risks."