BERKELEY SPRINGS, W.Va. — Crowds are growing at public hearings hosted by the state legislature's Joint Committee on Redistricting.
The panel is scheduled to hold its eighth public hearing Wednesday night in Keyser. There are 12 hearings scheduled.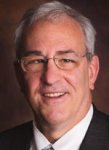 Committee Co-Chairman Sen. Charles Trump, R-Morgan, said residents are expressing interest in where the new lines should be drawn for delegate, state senatorial and congressional districts. He said that's the way it should be.
"How this government should be structured is up to the citizens really. This government belongs to them not the legislature. We want to know what they think," Trump said during a Wednesday appearance on MetroNews "Talkline."
Comments from the public at a public hearing Tuesday night in Martinsburg focused on the redrawing of congressional districts.
"They don't want to be in the same district as Kanawha County," Trump said.
A decrease in population in West Virginia means the state will go from three congressional districts to two for the 2022 election. The state legislature is in charge of redrawing those lines.
Members of the committee are beginning to examine recently released numbers from the U.S. Census Bureau. Trump said each of the state's 100 delegate districts will have about 18.000 residents. He said population growth in the eastern panhandle will add representation in Charleston.
"Berkeley County added between 2010 and 2020 just a hair under 18,000 people. That's a whole delegate district," Trump said.
There are currently 7 delegate districts located in Berkeley, Jefferson, Morgan and a part of Hampshire County.
The latest census numbers have been released, which means redistricting will be one of the many topics discussed. Charlie Trump, State Senator (R-Morgan) provides an update on the topic with @HoppyKercheval. WATCH: https://t.co/yCFQ3nm85Y pic.twitter.com/WokdXUxjWD

— MetroNews (@WVMetroNews) August 18, 2021
Trump said the overall population growth in the eastern panhandle will mean it will take a smaller area to come up with 18,000 residents per delegate district. He said it will be the opposite situation in parts of the state which have lost population.
"There have been some pretty dramatic losses of population in some areas—it will mean the boundaries of the area will have to get bigger and that creates problems and challenges," Trump said.
The Census reported last week West Virginia's population dropped by approximately 60,000 from 2010 to 2020.
The state Constitution says the districts have to be relatively equal in population, be reasonably compact, and be made up of contiguous territory. Trump said the state Constitution speaks in terms of adherence of county boundaries. He said sometimes those priorities conflict with one another.
"We're going to try and adhere to as much of it as we can," he said.
The legislature will meet in special session this fall to create/redraw 100 single-member delegate districts, 17 state senatorial districts and two congressional districts.
The remaining redistricting committee public hearing schedule includes:
Aug. 18: Keyser VFD Station 2
1550 Cornell St Keyser WV 26726
Aug. 24: Wheeling Independence Hall
1528 Market St, Wheeling, WV 26003
Aug. 26: Cabell County Courthouse, Courtroom #1 Judge Paul Farrell's courtroom
750 5th Ave, Huntington, WV 25701
Sept. 9: The Culture Center, Building 9, Capitol Complex
1900 Kanawha Blvd. E., Charleston, WV 25305
Sept. 16: Judge Donald F. Black Courthouse Annex
317 Market St, Parkersburg, WV 26101
Sign-up for speakers begins at 5:30 p.m. with each hearing scheduled to take place from 6 p.m. to 8 p.m.