MORGANTOWN, W.Va. —  While the West Virginia offense sputtered throughout the second half of last Saturday's season opener at Maryland, the Mountaineers' defense wasn't without fault in the 30-24 setback.
West Virginia surrendered 496 total yards, 6.2 yards per play and 22 first downs — 11 each by both run and pass.
"Defensively, we didn't play to the standard we've created here over the last year and a half," WVU head coach Neal Brown said. "Started very poorly and didn't tackle very well."
The Mountaineers scored three points over the game's final 41 minutes, but the struggles of the defense early forced West Virginia to overcome a 10-point first-quarter deficit.
West Virginia allowed 197 yards and 17 points over Maryland's first three drives.
The pass defense was problematic to start, as the Terrapins got a 66-yard play through the air from Taulia Tagovailoa to Dontay Demus Jr. for their first touchdown. Tagovailoa completed passes of 15, 24 and 18 yards on Maryland's second touchdown drive, the latter of which went to Chigoziem Okonkwo for a score.
"We weren't ready to go," WVU defensive coordinator Jordan Lesley said. "That's 100 percent on me. We knew we were going to get some formations and plays that were new and we hadn't seen. The issue was once it gets going downhill, you have to adjust on the run. When things are moving that fast with a couple of guys that are still pretty new and some of them in the secondary, you have to get things slowed down. We did on the first drive and I was happy we made them kick a field goal.
"I knew we were going to be adjusting as we go. I didn't know they were going to go that fast, but it is what it is. After that, what really got us was the blown coverages."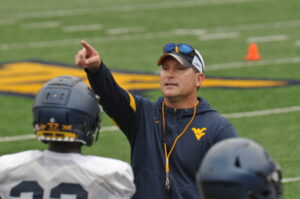 On his touchdown, Demus got free against redshirt freshman cornerback Daryl Porter Jr., who was making his first college start. Brown said after the game Porter got caught peaking in the backfield, which allowed Demus to to slip past him for the easy score.
"Any coach says you have to have a short memory and DP does, too," Lesley said. "He has to learn from it, because those are not going to be the last good receivers he plays in his college career."
In the second and third quarters, West Virginia's defense played much better.
Over eight possessions in the middle two frames, Maryland managed 110 yards on 35 plays. The Terrapins punted five times, turned it over on downs, missed a field goal after starting in WVU territory and produced their only points in that span on Joseph Petrino's 21-yard field goal just before halftime.
Maryland gained only 26 yards on 10 third-quarter snaps without picking up a first down.
"Defensively, the third quarter we played like we're capable of," Brown said. "That was the only quarter. We handled sudden change well, something we didn't do as good of a job with a year ago."
But Maryland's offense found its first-quarter form in the fourth.
Following Leddie Brown's lost fumble on the second-to-last play of the third, the Terrapins drove 58 yards in 14 plays and regained the lead on Petrino's 26-yard field goal.
WVU got inside the red zone on its next series, but quarterback Jarret Doege threw his second interception.
Starting from its own 20-yard line with a 23-21 lead, UM needed only 1:51 to make it a two possession game as Tagovailoa tossed a 60-yard TD pass to Rakim Jarrett.
It was a different outcome for a West Virginia defense that finished No. 1 in the country by allowing fewer than 160 passing yards per game last season. In the opener, the new-look unit allowed Tagovailoa to pass for 332 yards and was plagued by communication issues.
"When people attack you the way that people attack us and you're getting the same plays in a lot of different formations, the same looks and the same sets of plays with [run-pass options], you have to overcommunicate," Lesley said. "We've harped on that to our guys from the jump. We've done a pretty good job with it through fall camp. Just a lot of things that showed up that hadn't shown up, but they did and we have to fix them."
Brown said Tuesday some of the troubles defensively stemmed from players trying to do more than what their role asks. He cited Tagovailoa's 4-yard run for a first down on third-and-3 on the game's final series as an example.
"They run the quarterback on a lead truck play. We have a defensive lineman right there," Brown said. "We got an edge to the defense. Akheem Mesidor is going to make the tackle and it's going to be fourth-and-2 and a gain of 1. Our defensive lineman comes in the 'B' gap and they hit it outside.
"It's just one example of not good team defense. We have to play team defense and that means everybody doing their job, and we have to strike at the second and third level. We were on our heels way too much in the fourth quarter."
Fatigue played a role in some of Maryland's offensive success down the stretch. A byproduct of the Mountaineers losing the turnover battle 4-0 was having 61 offensive plays to Maryland's 80.
Brown said Tuesday defensive linemen Dante Stills and Taijh Alston and safeties Alonzo Addae, Sean Mahone and Scottie Young all played too many snaps on what was a muggy afternoon in College Park.
"In a normal situation, whether you punt, score or whatever you do, you have your set of guys that are about to rotate in and know how you're going to rotate them," Lesley said. "But with sudden change, what's on your mind as a coach is how am I going to stop the bleeding? So who's going to go in the game? Your best players. And then you don't realize it.
"That's something we have to fix and I have to fix. We have to use the depth we have, which a lot of them are more ready than they show on paper. We have to get those guys in. There's only one way to learn and that's play."