MORGANTOWN, W.Va. — With a clear No. 1 golfer in the lineup and added depth on the roster, WVU head coach Sean Covich opens his seventh season leading the Mountaineers Sunday. West Virginia will compete in the first of four fall tournaments at The Gopher Invitational at Windsong Farm Golf Club in Minnesota.
"It is quite a difference from last year where we only had seven healthy guys on the team to start the year, three of those were true freshmen who spent a lot of time in quarantine. We didn't even have team meetings because of the pandemic. This year we have nine healthy guys and I think eight of them are averaging even par or better in qualifying," Covich said.
Five Mountaineers will be in the starting lineup. Four others will compete as individuals, not counting towards the team score. Mark Goetz, Trent Tipton, Logan Perkins, Jackson Davenport and Kurtis Grant comprise the starting five.
"One reason why we like playing in Minnesota is because across the street they host a separate tournament just for individuals. So you can bring as many players as you want. We are fortunate we have such a small roster that we can carry those guys.
"You battle hard in qualifying but don't quite make it. But you can still compete and play. And we get an opportunity to evaluate them."
Goetz returned for a fifth season of eligibility after an impressive spring and summer season. Goetz was the runner-up at the NCAA Regional in Noblesville, Indiana. He missed qualifying for the national tournament by one shot. Goetz was also the runner-up at the Western Pennsylvania Open and the Pennsylvania Amateur. He was also the stroke play medalist at the U.S. Amateur.
"I remember driving home from that [regional] tournament thinking that this kid is going to play professional golf. And he is going to win on the professional tour," Covich said.
"This kid prepares and thinks the right way and he has all the talent and all the tools. I have never seen a more relaxed Mark Goetz in my career. He knows he has put in the work and he has definitely become a leader for us."
In preseason qualifying, junior Trent Tipton has posted similar scores to Goetz. Covich said Tipton's game has gone through a remarkable turnaround.
"If I tell you what he averaged last year and what he averages now, you would think I am making it up. I looked at fall of 2020 in a same setup of qualifying last year, he was struggling big time. He averaged 85 in qualifying and was no where near being close to be able to play. This year, he is averaging 69.2. I have never seen anything like that in my sixteen years of coaching."
Kurtis Grant also solidified a starting spot with a solid preseason.
"He was left out of the lineup at the Big 12's last year after starting every tournament. We talked about things he needed to improve on. We said that you have to be so good that we can't leave campus without you. He decided to shoot 22-under in qualifying."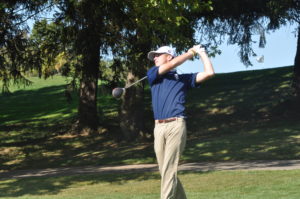 Multiple Class AA champion and WVGA Junior Amateur winner Todd Duncan is one of two freshmen on this year's roster. Covich has been impressed with early qualifying rounds from the Shady Spring High School graduate.
"He came out of the gates pretty good. He shot 70-68-68 in his first three rounds and was looking really good early in qualifying. I think that sent a message to maybe guys like Logan [Perkins] that these freshmen can play. Todd and Max [Green], what they have done really motivated the older guys.
"I think the thing [Duncan] needs to work on is when you don't have your best game and you are not feeling good or your swing feels a little bit off, still find a way to get it in around par and not have it turn into a 78, 80 or 82."