(Bob Huggins' preseason Zoom conference)
MORGANTOWN, W.Va. — Bob Huggins enters his fifteenth season guiding his alma mater with a roster of fifteen players and seven newcomers. The Mountaineers begin official preseason drills on Tuesday.
Teams across the country feature expanded rosters this season since players were able to take advantage of a free season of eligibility due to the pandemic. Gabe Osabuohien and Taz Sherman opted to return for their respective fifth seasons. As team chemistry continues to build through the preseason, Huggins has several options in the backcourt
"We are probably going to end up playing four out. We are just trying to spend a good deal of time with those bigs to see if we can get one of them that can score some in there. They rebound it and they block shots. But with more work, I think we can get them to score around the goal," Huggins said Monday.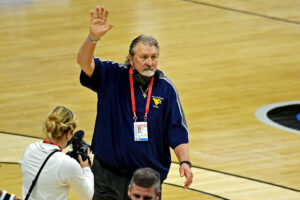 "I don't think with our guys and their personalities and with the way they get along with each other that we will have any issues with bad attitudes."
West Virginia will need to replace a pair of All-Big 12 selections in Deuce McBride and Derek Culver. Although McBride led the Mountaineers in scoring, steals and assists last season, Huggins believes Culver's departure could have just as much of an impact.
"We've got guards so we are going to miss Derek more than we will miss Deuce. Derek could get hard rebounds. Derek was big and strong and people couldn't move him. He could move whoever he wanted to move. He got clutch rebounds and big rebounds at the end of games. Not that we won't miss Deuce, we will. But we don't have a 6-foot-10, big, strong guy anymore."
Forward Isaiah Cottrell is back to full health after a promising freshman season was cut short to ten games by a torn Achilles last December.
"He can step outside and make shots. He is not Taz [Sherman] or Sean [McNeil] but he may be our third best shooter.
"He did a good job of making sure that he was there all the time and doing everything he was supposed to be doing. He's been great from a standpoint of being able to run and jump. It hasn't affected him at all."
Dimon Carrigan (FIU), Malik Curry (Old Dominion) and Pauly Paulicap (DePaul) are fifth-year transfers to join the Mountaineers in the offseason. Beckley Prep product James Okonkwo initially looked to be redshirted after enrolling early at West Virginia. But Huggins says Okonkwo may be in the rotation quickly.
"James is really playing well. He is far and away the quickest guy off the floor and gets to a lot of balls. The more I watch him, I was pretty well set we were going to bring him in and redshirt him and get him bigger and stronger for the following year, but he is playing really well."
The first two signees in Huggins' Class of 2021 were a pair of Ohio guards in Seth Wilson and Kobe Johnson.
"I think Seth is probably, at this point in time in his career, is much better off the ball than he is on the ball. Kobe handles it a lot better than we imagined he would. He may have as good of ball security of anyone we have on the team. He passes it well and is another guy that can make open shots."
Sean McNeil (12.2 points per game), Taz Sherman (13.4 points per game) and Gabe Osabuohien (second on team in rebounding last year) are veteran returners. Fairmont Senior High School alumnus Jalen Bridges is entering his third season in the program. He started the final nineteen games last season.
"Obviously [Jalen] can shoot it, but to be a little bit better off the bounce. Really what I wanted to see more of was could we get him in a mismatch situation with a 5-foot-11 guard and put him on the block. But he works at it."