A Senate redistricting committee won't be making any hard-and-fast decisions until the full Legislature returns next week.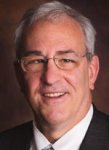 "My believe is, with a committee of nine persons, we're going to have to wait until we've got everybody here," said Senator Charles Trump, chairman of the Senate Redistricting Committee.
"I'm worried that without having the whole Senate to look at this, we're not going to have a fair idea of what's approvable by the whole body."
Gov. Jim Justice has said he will call the full Legislature into a special session to focus on redistricting, starting Monday.
The Senate's redistricting committee, which met Friday afternoon, announced plans to meet again at 3 p.m. Monday.
"It's not the chair's intention to seek a recommendation today for anything," said Trump, R-Morgan.
Senators who gathered Friday afternoon spent much of their time comparing the population deviation and geographic compactness of different congressional maps.
"We've seen lots and lots of maps," Trump said, anticipating more comments from the public and from lawmakers. "We get more and more every day it seems."
By the end of this process, kicked off by the 10-year-Census, lawmakers will alter state Senate districts, settle on 100 single-member House of Delegates districts and divide West Virginia into two congressional districts — a reduction necessary because the state has lost population.
The Senate's redistricting committee formally met the past several days, discussing two dozen possibilities for congressional districts and introducing several options for state Senate maps.
A House redistricting committee also will have say-so. The House's redistricting committee met last week and reviewed six congressional maps along with one proposed starting point for a map of the House of Delegates. That committee has not yet reconvened.
Trump said the Senate's redistricting committee discussion is valuable but that, procedurally, there is no one to give recommendations until the full Legislature is in session.
"We don't really have anybody to report to," he said. "For anyone chomping at the bit to select a map, it's probably a little frustrating."
But on Monday, he said, lawmakers will "take the temperature of the Senate as a whole.
"My hope is we are going to get feedback from the public and feedback from our colleagues."