After hours of start-and-stop consideration, the state Senate decided to hold over a proposed map of their own districts for the fourth straight day.
"I request unanimous consent that the bill lie over one day, retaining its place on the calendar," Senate Majority Leader Tom Takubo, R-Kanawha, said this evening, just as he did last Wednesday, Thursday and Friday.
The Senate remains paused because of an apparent dispute within the Republican supermajority about the best shape for their own districts for the next decade.
A bill representing Senate districts has been up for a final vote each of the past four days. But instead of proceeding with a final vote, Republican senators have taken time to privately caucus and try to work out their differences.
In remarks on the floor this afternoon, Senator Mike Maroney alluded to some rough discussions behind closed doors.
"I'm glad West Virginia couldn't see it, because they would have been embarrassed; we would have been embarrassed," Maroney, R-Marshall, said during one of several floor sessions today.
This follows months of public hearings all around the state and a couple of weeks of open committee meetings.
"This is hard. If it were easy, we would have been out of here last week," Takubo said earlier in the day, before matters really went sideways again.
Today, in herky-jerky fashion, senators came closest to finally having a vote.
They gaveled in at 11 a.m. but immediately moved to recess until 1:30 p.m.
At 1:30, they considered a couple of amendments to a map that was approved by the Senate Redistricting Committee one week ago. 
The first, labeled Amendment One, was sponsored by senators Patricia Rucker, Eric Tarr, Donna Boley and Patrick Martin.
That map, which was not previously publicly considered, breaks up 13 counties, often through municipalities. Cabell County is split four ways. Kanawha is split three ways. One proposed district includes Clay County in central West Virginia and dips all the way down to a portion of Mercer County to the state's southern border.
Senator Rucker, R-Jefferson, advocated for the map, saying it was the result of many discussions.
"I want to thank all of those who have worked so hard in giving their input. This is a conglomeration of trying to take that into account all the considerations, all the input, all the information that we have been provided," Rucker said.
"This map tries to respect all those focuses, all those needs, all those interests, and it tries to balance them. Is it a perfect map? I don't think such a thing exists." But, she concluded, "I believe this map is the best representation of balancing all of those needs. It is a map that I support."
Senator Rucker has an amendment to SB 3034 (SB3034 SFA Rucker 10-18 #1). View full text of the amendment here: https://t.co/5DrAfS6vya. pic.twitter.com/awCl7YgKPv

— WV Senate Clerk (@WVSenClerk) October 18, 2021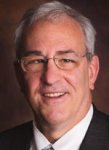 Takubo and Senate Judiciary Chairman Charles Trump, who had helmed the redistricting committee, then advocated for an alternative to the map that Rucker had presented.
Trump acknowledged that growth in Monongalia, Berkeley and Jefferson counties — along with population loss everywhere else — had made mapping a real challenge.
But he said the alternative he was presenting would slice up only 10 counties while leaving the rest whole. And, he noted, the map that Rucker had presented would divide Kanawha so many ways that the residents of the state's largest county would need to rely on residents of surrounding counties for Kanawha to have any hope of having more than one senator.
"I think the Takubo/Trump amendment is an improvement over the main amendment," Trump said.
Senators Trump and Takubo have an amendment to the Rucker amendment to SB 3034 (SB3034 SFA Takubo 10-18 #1). Full text of the amendment: https://t.co/2hrNjglWWO. pic.twitter.com/dHC8gAQ3fn

— WV Senate Clerk (@WVSenClerk) October 18, 2021
Maroney stood and spoke in favor of what Trump and Takubo had just presented. He singled out Trump for praise.
"He didn't care about pencil whipping the other side. He cared about following the Constitution," Maroney said.
The other map under consideration, Amendment One, represented different values, he said.  "It pencil whips first and follows the Constitution second," Maroney told his fellow senators. "That's not what I put my hand on the Bible to do."
Moments after that, senators were asked to vote on whether to accept the Trump and Takubo proposal as a substitute for the other alternative, Amendment One.
After all this time, there was some drama as senators cast their votes. The electronic voting board at the front of the gallery lit up but took a few moments to fill in. Senator Patrick Martin, one of the sponsors of Amendment One, was one of the last couple. His vote was a no to Trump and Takubo.
And Senator David "Bugs" Stover, R-Wyoming, moved his vote to yes for Trump and Takubo. That made the margin.
With a squeaker, a 17-16 vote, the Trump and Takubo amendment was approved, overriding the map that Rucker had presented.
All 11 Democrats and six Republicans — Takubo, Trump, Stover, Maroney, Majority Whip Ryan Weld and Senator Charles Clements — accounted for the 17. Senator Eric Nelson, R-Kanawha, was absent.
That was not the way most people thought the vote would go.
"Senate will be in recess for five minutes," said President Craig Blair, R-Berkeley, who had voted against the Trump and Takubo alternative. Blair banged the gavel and strode out a back door.
There was one more vote after he returned.
Next up was consideration of the Trump and Takubo amendment versus the actual map that was passed by the Senate Redistricting Committee.
This time, the Trump and Takubo amendment went down, 14-19. 
The failure of the two amendments, one after the other, meant the original map passed by committee was the only one still standing.
"I rise in support of passage of this bill," Trump said. "This map would be, in effect if this bill is adopted, divides only seven of the state's 55 counties." He concluded, "It's a better plan than we've seen so far. I urge passage."
Even though that's the one that emerged from the earlier public process, it seemed to throw matters for a loop. First there was a big huddle at the president's podium. Then Takubo and Weld conferred with Blair.
And then, before a final, final vote, Takubo announced the Senate would recess again, coming back at 4.
Senators did return at 4 but promptly announced another recess, returning at 6. Republicans would caucus again.
And at 6, Takubo rose once more to announce that the Senate would not take a final vote after all today.
Senators appear to have few choices left: vote on the committee map that is now the last one standing, try more amendments or start over.
Senators plan to gather and try again at noon Tuesday.