HUNTINGTON, W.Va. — Thursday is set to be the day that the Marshall University Board of Governors (BoG) selects the 38th president of the institution.
Current President Dr. Jerome Gilbert announced in April that he would not seek a contract extension when his current term expires in July 2022. In June, the BoG approved the search process for a new president which included listening sessions around Marshall's campus communities.
After listening tours, releasing a preferred qualities list for the next president and going through more than 100 applications in the summer, face-to-face interviews were conducted and five finalists were announced Sept. 30.
The presidential finalists are, in alphabetical order: Bernard Arulanandam, vice president for research, economic development, and knowledge enterprise, The University of Texas at San Antonio; Bret Danilowicz, provost and vice president for academic affairs, Florida Atlantic University; Robyn Hannigan, provost, Clarkson University; Kathy Johnson, executive vice chancellor and chief academic officer, Indiana University-Purdue University Indianapolis (IUPUI); and Brad D. Smith, co-founder, Wing 2 Wing Foundation.
State Senator Mike Woelfel, D-Cabell, a graduate of Marshall and representative of the Huntington area told MetroNews the next president must understand Marshall is the economic engine of the region.
"As Marshall goes, Huntington goes. When I say Huntington, it's a regional place. It's not just a city of 50,000 people. Huntington is 200,000 people that live right in the tri-state area," Woelfel said.
Woelfel acknowledged the leadership of Gilbert over the past five years. Gilbert came to Marshall in January 2016 from Mississippi State University, serving as a provost and executive vice president for nearly six years there.
"He's a gentleman, he's bright, he's very empathetic, he's innovative. I'm a big fan of Dr. Jerry Gilbert," Woelfel said.
CANDIDATE VISITS:
Each candidate visited the South Charleston and Huntington campuses in separate visits from Oct. 11 to Oct. 19. MetroNews was at every meeting on the South Charleston campus and interviewed each finalist.
On Oct. 11, Hannigan described Marshall as being nimble and ready to expand programs quicker than other institutions.
"As your president, I am here and I am and present. I will act on behalf of the institution, bringing everything I know about higher education and about entrepreneurship, innovation, economic development to help us be successful," she said.
Hannigan, who was also the founding dean of the School for the Environment at the University of Massachusetts Boston before going to Clarkson, told the crowd she was attracted to Marshall because of its dedication to the community and inclusion. She also viewed Marshall as being ambitious and hungry to grow.
"This institution is centered on access and opportunity," Hannigan said.
The following day, Oct. 12, Marshall alum and donor Brad Smith was on campus. The former Intuit CEO is the only candidate that does not come from a background of higher education, having a background in philanthropy, leadership and entrepreneurship. He is the executive chairman of the board of Intuit, chairman of the Nordstrom board and a board member of Momentive (formerly SurveyMonkey). He formerly served on the board of Yahoo as well.
Smith complimented the other four finalists for the position, saying Marshall will be in great shape no matter the selection. He added that while he knows he's the only non-traditional candidate, he has a background that makes him unique.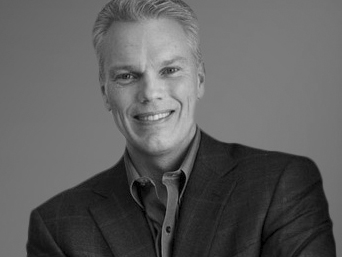 "What I think helps me in the situation is I am also a native of West Virginia, I am a graduate of our public education system in West Virginia, I'm a proud son of Marshall. None of those things qualify me to be president but they prepared me for a 36-year career that led large complex organizations through transformational change while preserving the core mission of that institution," Smith said.
"That's what Marshall is facing now. We are in the 21st century where higher learning is being changed and disrupted. It's important to preserve who you are while adapting and evolving to who you need to become."
One of the highest-ranking academic officials at Indiana University-Purdue University Indianapolis in Dr. Kathy Johnson visited the day after Smith.
She serves as executive vice chancellor and chief academic officer at Indiana University-Purdue University Indianapolis (IUPUI), a core campus of Indiana University and the state's urban research and academic health sciences campus.
Johnson told MetroNews that her understanding of enrollment management strategy, understanding of how to improve an institution's climate to better recruit students and understanding of strategic international partnerships could set her apart from other candidates.
"I work very closely with deans, with associate vice-chancellors and other academic leaders in trying to position our programs that students can be successful," Johnson said.
"I am also responsible for our research arm. Make sure we are doing everything in our power to increase faculty's ability to get external grant funding and make discoveries that will translate into patents."
To round out the week, Arulanandam spoke to Marshall faculty, staff and community members Oct. 14 at the South Charleston campus.
His portfolio is highlighted by being an established immunologist and co-leading the Public Health Task Force for the COVID response and recovery efforts at UTSA, an institution with more than 34,000 students.
As an immunologist, Arulanandam is focused on cellular and molecular mechanisms involved in the induction of immune responses against infectious diseases, Marshall's presidential search page stated.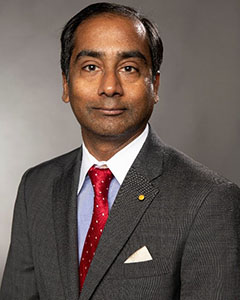 He has served as the director of the South Texas Center of Emerging Infectious Diseases and is currently an administrator for the Vaccine Development Center of San Antonio.
"I have led by coming up with protocols and strategies that we can implement to keep students safe," Arulanandam said to MetroNews of COVID-19 response. "And then allow for research operations and other pieces of the institution to slowly open up again as safety became prominent with the rollout of vaccines."
Arulanandam highlighted the need for Marshall to strengthen both regional and international partnerships. He said he believes all institutions should have strategic partners abroad to diversify the brand of the university and bring visibility.
The fifth and final candidate visited the Mountain State on Oct. 18 and 19, Dr. Bret Danilowicz.
Before joining Florida Atlantic, Danilowicz served as dean of the College of Arts and Sciences at Oklahoma State University, according to Marshall's presidential search page. Previously, he was associate dean, then dean, of the College of Science and Technology at Georgia Southern University.
Danilowicz said an enrollment strategy that he would like to implement at Marshall is career-aligned employment. For example, he said an accounting student should be able to work part-time with an accounting firm during their undergraduate years and not in retail or fast food.
"We need to be attracting businesses that would be able to employ students in their selected career field when the student starts freshman year," he said of the strategy. "This really gives the students the applied experience when they come to Marshall. These are things that are starting to be done, I've implemented elsewhere and can do so here."
Danilowicz was also critical of Marshall's ability to attract students from community colleges and dual enrollments from local high schools to the Huntington campus. He noted that in his interview preparation, he did not see the proper links on the institution's main web pages for branding a pathway to Marshall for those specific students.
"We need to be providing those students with access to athletic programs, student clubs on campus and to integrate them as part of the Thundering Herd. From the first day they are signing up at those other institutions," he said.
MEETING NOTES:
The BoG meeting is scheduled for 11 a.m. on Thursday and can be streamed on Marshall's website. An executive session is scheduled before an open session that includes a resolution and appointment of a new president.
The university may also announce a new athletic conference affiliation on Thursday or in the days following the naming of a new president. Marshall BoG Chairman Patrick Farrell said the board will give the new president a chance for input on the decision that is likely to come between Conference USA or the Sun Belt.
Here is the agenda for tomorrow's Marshall Board of Governors meeting. #WeAreMarshall

You can watch it live with this link. https://t.co/9KQ2JHDMkB pic.twitter.com/fuGtlxgkeG

— Patrick Farrell (@FarrellPatrickJ) October 27, 2021