MORGANTOWN, W.Va. — Noah Johnson, a WVU economics major from Baltimore, Maryland, does not know what the future holds for him when it comes to Esports but does know he has something cooking at the present time.
Johnson took home the Level Next Madden National Championship in the college realm last week and competed in a professional tournament Wednesday where he won the Thanksgiving Madden Championship.
Johnson, who was WVU's first Esports recruit, recently appeared on MetroNews 'Talkline' to discuss his career so far after making a statement with the national championship.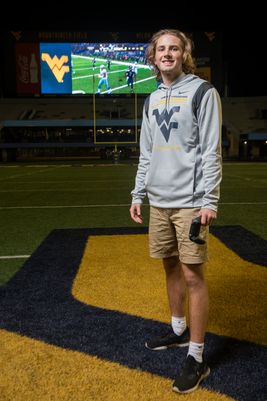 "I started playing with my dad growing up," he said. "I figured out these tournaments online and I started playing in them. I started doing well in these online tournaments and next thing you know I'm playing in these high-level tournaments."
He has done it!@NoahUpNxt is your MCS Ultimate Thanksgiving Madden Champion!

🏆2x MCS Belt Winner
🏆Level Next Collegiate National Champion#BuiltDifferent #OneForTheBooks pic.twitter.com/VT5F25M0gs

— WVU Esports (@WVUEsports) November 25, 2021
Johnson played Wednesday and was victorious  in the MCS (Madden Championship Series), one of the series' four major tournaments. He was the fourth ranked Madden NFL 22 player in the world going into the event where $75,000 was on the line.
.@NoahUpNxt, @WVUEsports first student, won the esports Level Next Madden National Championship. He describes to @HoppyKercheval that moment along with his time at WVU so far. WATCH: https://t.co/yCFQ3nDJuy pic.twitter.com/MawZPUFamb

— MetroNews (@WVMetroNews) November 22, 2021

Johnson won $25,000, a belt and ring with his collegiate national championship win over Weber State. He advanced to the winner's bracket as a Mountaineer with a last-second field goal to beat Weber State, 17-14.
Johnson then beat Weber State again in the championship game, 23-21, by converting a 4th and 10 play to maintain possession of the ball and run out the clock for the win. In the semifinal, Johnson beat Oregon 31-14.
"I could have punted the ball and tried to play some defense but I took a risk and went for it on 4th and 10. I found DK Metcalf open, he caught it and that is all that matters," Johnson said of his gaming decision.
He added that playing Madden and Esports takes skills such as being able to adjust mid-game and staying on your toes. He said that he watches opponents' past games on Youtube and scouts their tendencies before kickoff.
WVU said Esports is currently holding tryouts for competition to start in the spring for Call of Duty, Rocket League and Valorant.
"Esports could be huge. I am on the roller coaster of it and I'll see where it takes me. I honestly have no clue," Johnson said.