SCOTTSDALE, Ariz. — If he were so inclined, WVU sophomore center Zach Frazier could talk a big game because he has the credentials to back it up. Truth be told, the Fairmont Senior graduate is probably one of the quietest persons in any room he walks into.
Coaches often preach humility so that is a welcomed virtue in most programs. In the middle of his second highly-productive season on West Virginia's offensive line, the WVU coaching staff has pushed Frazier to build upon his leadership skills. And that isn't always easy for a soft-spoken player.
"He is growing into it. He really is. From a leadership standpoint, I am so excited when we get back in January and moving into next year, how much improvement and growth he is going to make in that area. Over a years time, he has grown tremendously and there's so much more there. Leadership within football teams — it is your best player, your hardest worker, your best people. He is all three and you very seldom get that," said WVU head coach Neal Brown.
"When you have that in a critical area like offensive line, and at an area that can set the tone for your whole team and program, you have a chance to be special."
During offseason workouts, players are divided up into ten 'accountability teams'. The teams have internal competitions during winter, spring and summer workouts. Frazier was the only offensive lineman and the only second-year player to be named a team captain.
"That was something that was difficult for me with being a freshman last year and really having to build on leadership and speaking to other people. Last year, that would have been something that would have been very hard for me but now it is a lot easier with the things [Brown] has put me through," Frazier said.
"I wouldn't say I am a loud person now. But I feel a lot more comfortable talking."
"I said, 'Listen Zach, I am going to make you really uncomfortable'. He was a captain for an accountability team and he is not comfortable in that setting. It is our job to continue to make him uncomfortable and push him. He understands the 'why' behind it," Brown said.
"From his freshman year to his sophomore year, I would say he is being more of a vocal leader. He is going to continue to grow in that area. I think he is more of a guy that just sets the standard every day," said WVU quarterback Jarret Doege.
"All the accountability coaches grow as leaders. I know it has helped me. It puts you in the perspective of a head coach and being able to take care of a group of guys of ten to twelve and being able to hold them accountable all the time."
Senior defensive lineman Dante Stills played alongside Frazier for two seasons as a Polar Bear and has seen great development since his high school days.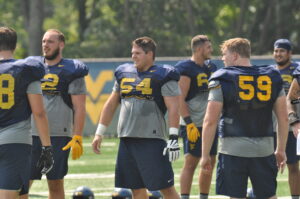 "He definitely came out of his shell," Stills said. "He is definitely more vocal. He definitely brings the O-line along with his hard work and his extra work. He definitely has the mindset of a pro. At a young age, he is doing damage. He is handling business like I would expect."
Frazier followed up a Freshman All-America season by being named to the Walter Camp Football Foundation and the AFCA Second Team All-America squads this fall. Brown believes the ceiling continues to be raised on Frazier's potential.
"The biggest improvement he has to make from a football standpoint is that he has to be more consistent with his snaps. He can continue to improve in his pass protection," Brown said. "He will get stronger but he is already real strong at the point of attack. He can play with a little bit better pad level. But he made a couple All-America teams this year. It is the first full year he has ever played center. I think if he can stay healthy, he can be one of the top offensive linemen that have played here."
Frazier is surrounded by players on the offensive line who will likely return as starters in 2022.
"We should be all back next year and I think that is the biggest reason why we have improved throughout the year with the time we have gotten to play together this year and grow together," Frazier said. "I feel like we have started to mesh and really started to play our best football towards the end of the season."