Police in north central West Virginia made several arrests over the holiday weekend and are conducting investigations into separate crimes.
Deadly hit and run
WESTON, W.Va. — Police in Weston are investigating a hit and run that occurred on New Year's Eve.
Authorities said the man was struck and killed on North River Avenue near the Weston Municipal Building at just before midnight.
Anyone with information is asked to call Weston police at 304-269-3207.
Murder arrest
BAXTER, W.Va. — The Marion County Sheriff's Department has charged Treciton Monteon, 24, of Baxter, in a Dec. 30 shooting death.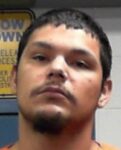 Police allege Monteon shot and killed Austin Summers, 21, of Baxter, in a home on Wise Street. Deputies said Summers was dead when they arrived at the scene.
Monteon was arrested Sunday and has been charged with first degree murder. He is being held without bail in the North Central Regional Jail.
Detectives are reportedly still interviewing witnesses in the case.
Overdose death charges
FAIRMONT, W.Va. — A Pennsylvania man is facing charges after police say he failed to notify authorities of a fatal overdose at a Marion County hotel.
State police responded to a possible overdose at the Clarion Inn on Nov. 21. When police arrived they found the deceased person and Gregory Abell, 35, of Uniontown. Abell told police he had called 911, but the medical examiner determined the person had been dead for several hours.
During the investigation, police said found text messages saying Abell had "helped his friend take his last breath."
Abell has been charged with failure to render aid and is being held in the North Central Regional Jail.