MORGANTOWN, W.Va. — One week after West Virginia was ravaged by players in COVID protocol in a 15-point loss at Texas, the Mountaineers expect to play with a full cast of characters in Saturday's 2 p.m. matchup with Kansas State.
"I believe so," veteran head coach Bob Huggins said Friday in response to whether his team would be at full strength for its first Big 12 Conference home game.
That means leading scorer Taz Sherman, key reserve Gabe Osabuohien and freshman guard Kobe Johnson are expected back for West Virginia (11-2, 0-1), which had its eight-game win streak snapped in a 74-59 loss to the Longhorns last Saturday.
The trio isn't up to full speed yet, but their presence figures to give the Mountaineers a lift.
"Very little [practice]. I wouldn't say enough to get back in shape," Huggins said.
While Texas was at full strength for that matchup, the Wildcats (8-5, 0-2) will not be when they play at the Coliseum.
In addition to being without head coach Bruce Weber, Kansas State will have only seven scholarship players available.
Weber was hopeful to make the trip to Morgantown after missing the Wildcats' most recent game Tuesday — a 70-57 loss to Texas — but confirmed Friday he tested positive for COVID.
"I'm on day six today," Weber said. "I could test out. I did test this morning. I tested positive again. I was packed, ready to go to practice and go on the trip, and I cannot be part of it because of the test out protocol."
Assistant coach Jermaine Henderson will serve as head coach for KSU. Fellow assistant Shane Southwell, who was acting head coach against Texas, will not make the trip. Southwell, associate head coach Chris Lowery and video coordinator Nate Michael are each out Saturday.
It leaves the coaching duties to Henderson and graduate assistant Zack Price, and the duo won't have a team at full strength.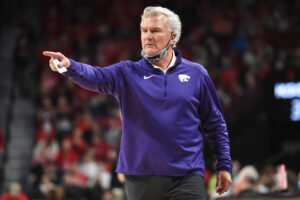 "I don't think it's right," Weber said. "I think it's unfair. I've expressed that to the league office. I did last year and I did this year. That's the rules and you have to play by the rules, but I just hope everybody is playing by the same rules."
The Wildcats played Tuesday with only seven scholarship players, though guard Markquis Nowell is expected back against WVU after missing the last two games. Weber confirmed there's been an additional scholarship player test positive since the loss to the Longhorns, though he declined to specify who.
Nowell is K-State's second-leading scorer with an average of 12.8 points. Of the Wildcats' five-leading scorers, Nowell was the only one to miss the Texas game, though 6-foot-10 Kaosi Ezeagu (6.3 points, 4.3 rebounds) and 7-footer Davion Bradford (4.5, 2.7) were both sidelined.
The majority of the Wildcats' offense comes from Nowell and a trio of other guards, including leading scorer Nijel Pack (15.6) and graduate transfer Mark Smith (10.3). The 6-foot-4 Smith, who came to KSU from Missouri, averages a team-best 8.5 rebounds.
Fellow 6-4 guard Selton Miguel is the team's fourth-leading scorer at 8.9 points, while 6-9 forward Ismael Massoud averages 8.2 points.
The Wildcats have been strong defensively and rank near West Virginia by allowing the opposition an average of 61.2 points. K-State's opponents shoot just 39 percent from the field, including 26 percent from 3-point range — the eighth best mark nationally.
"Bruce doesn't get the credit he deserves for being as good of a coach as he is. He's really a good coach," Huggins said. "They run great stuff. They're terrific defensively. He's done a great job with roster management. I guess that's what it's called now. He's brought in guys that really fit into his system and really make them better."
Sherman's presence figures to make the Mountaineers much better offensively. The 6-4 guard is the 14th leading scorer in college basketball at 20.9 points per game, and Huggins described him as the best player in the Big 12 to this point following the loss at Texas.
Osabuohien is one of the top reserves and defenders in all of the Big 12, a player whose impact is much greater than what statistics show. Johnson plays an average of nearly 12 minutes and adds needed backcourt depth.
With each of the three having spent minimal time practicing and not playing in a game since a December 22 win against Youngstown State, Huggins is unsure how long they can go Saturday.
"That's kind of up to them," he said. "Those guys have played enough and been around enough that they'll tell me when they need a break."
Sharpshooter Sean McNeil is WVU's only other double figure scorer at 13.8 points, while sophomore swingman Jalen Bridges moved closer to that mark when he matched his season-high point total with 18 in Austin. Against the Penguins, Bridges, who averages 8.1 points, finished with nine points and eight rebounds.
Huggins is hopeful his improved production of late is a sign of things to come.
"I hope it was and hope he kind of came out of his shell so to speak," Huggins said. "Those guys were as much encouraging JB to shoot the ball early on in the year as I was. They want him to score the ball. Taz and Sean both know we're going to be a much better team when we have all three of those guys making shots and being aggressive offensively."
Kedrian Johnson and Malik Curry continue to handle the point guard role for WVU, while Isaiah Cottrell, Pauly Paulicap and Dimon Carrigan see extensive action in the frontcourt.
WVU had held six straight opponents below 60 points prior to its most recent contest, but Huggins saw the team's 20 turnovers as its biggest issue.
"After all this time, I learned you can't turn it over 20 times and expect to win," he said. "I don't think we played terrible. You can't turn it over 20 times and turn it over to them for baskets, and we did that. We had way too many live ball turnovers that resulted in baskets for them."
The Wildcats and Mountaineers have a pair of common opponents to this point, with both teams having lost to Texas and Marquette.
WVU is 13-8 all-time against K-State and has won three straight in the series.