MORGANTOWN, W.Va. — Oklahoma State spoiled Senior Day in Morgantown last March and denied Bob Huggins his 900th career win by defeating the Mountaineers, 85-80. Five days later, the Cowboys eliminated WVU in the Big 12 quarterfinals, 72-69. Since West Virginia joined the Big 12, OSU is 6-3 in Morgantown. The squads will open their 2022 home-and-home series Tuesday night at 9 p.m. [ESPNU] at the Coliseum.
"They play really well together. I have watched them play several times. They play really hard. We have had great games. The game in the conference tournament was a great game. If we get the call at the end, who knows what happens," said WVU head coach Bob Huggins.
"They're really good. [Isaac] Likekele hurt us a couple years ago. He actually just took over the game. Both of the Boone brothers [Kalib & Keylan] have played really well against us. They are athletic as can be. They are a really good team and Mike [Boynton] has done a really good job with them."
The Cowboys stand 8-5 overall with an 11-point loss to Kansas and a 13-point win over Texas in Big 12 play. Head coach Mike Boynton is 80-63 in the middle of his fifth season as head coach.
"He has done a terrific job. I didn't expect him not to. He's got a great rapport with those guys. And he has a bunch of guys that have been there for a while and they are loyal. And I think they are proud to be there."
The Cowboys will play the regular season knowing that no postseason play will be in their future. A 17-month appeal process to the NCAA for recruiting violations postponed a postseason ban for the 2021 season. That punishment however was upheld in November, leaving the Cowboys on probation for three years and outside the postseason this March.
"I think it would be really hard," Huggins said of coaching a team without postseason hopes. "But I think you appeal to their pride. Everybody who plays at this level wants to continue to play somewhere. You have to have a resume to be able to go play somewhere."
An early look at the big picture
Defending national champion Baylor (15-0, 3-0 Big 12) is the only team with a perfect record in league play. The Bears will visit the Coliseum next Tuesday.
"Anybody can be beat but I think Baylor has kind of set themselves apart, like Kansas did before," Huggins said.
The Mountaineers entered the new year and the start of Big 12 play with an 11-1 mark. Although the season still has not reached its midway point, a middle-of-the-pack finish likely puts West Virginia in position for a spot in the NCAA Tournament field.
"If you win eight games in this league, you are going to raise up pretty good in the NET [ranking]. Obviously, you want to finish higher because they are not going to seed somebody who won eight games over somebody who won eleven games, even though maybe the 8-win team in our league played a much better non-conference schedule than the team that won eleven."
Getting back to full strength
Point guard Malik Curry was limited to 18-plus minutes in Saturday's 71-68 win over Kansas State. He suffered an ankle injury midway through the second half and did not return to the game.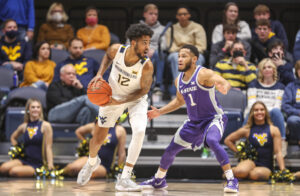 "He didn't practice [Sunday]. But we think he is going to be ready to go," Huggins said.
"It is the same [ankle] he has done a bunch of times. The more you sprain them, the faster you can come back from them. That is my medical report for the day."
Fellow guard Taz Sherman returned to the lineup Saturday after missing the Big 12 opener at Texas due to COVID protocols. Huggins says Sherman is still getting back up to speed.
"He gutted his way through it. But he wasn't very good. He was better [Sunday]. He's got to get his weight back too. I thought he looked really thin coming back."
Bridges earning praise
Fairmont Senior High School graduate Jalen Bridges tied a season-high in scoring with an 18-point effort against Texas on New Year's Day. Saturday against KSU, Bridges was held to just 2 points. The sophomore has earned praise from Huggins for his offensive and defensive versatility.
"He has defended. And he has had to defend at times a big, at times he has had to defend a guard. At times he has been defended by a big and at times he has been defended by a guard. He is a great team player. He is really unselfish. He doesn't force shots. I couldn't be happier with JB and with what JB has done."