House Speaker Roger Hanshaw confirmed state officials are likely to announce a major economic development deal this week with a big company.
"I'm certainly willing to confirm there is likely to be a big announcement on that same magnitude that you just laid out, about $2.7 billion," Hanshaw, R-Clay, said on MetroNews' "Talkline" today.
"We are here to consider the terms of an agreement that would potentially be the single-biggest economic announcement ever made, certainly in the recent history of West Virginia — something on the order of 800 full-time jobs, something on the order of a thousand construction jobs, lasting upwards of a couple years."
No one, including Hanshaw, has publicly named the company yet. But it is widely believed to be Nucor Steel of Charlotte, N.C.
"We're talking about a heavy industry company," Hanshaw said, "and when we talk about heavy industry it's been a while since we've done that kind of development in West Virginia. Certainly we want jobs of every kind here in our state; we want to recruit economic activity of almost every stripe.
"We have an opportunity here now to recruit an investment in heavy industrial manufacturing in our state and provide the kind of jobs that we've not announced in the State of West Virginia for some time."
A special session begins today to discuss a bill or bills based on tax incentives based on certain investments. @SpeakerHanshaw joins @HoppyKercheval to provide more information about this special session. WATCH: https://t.co/yCFQ3nDJuy pic.twitter.com/1By2hO6KeK

— MetroNews (@WVMetroNews) January 10, 2022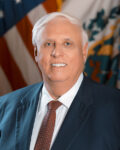 Gov. Jim Justice has, several times now, strongly hinted at a splashy economic development announcement during his State of the State address on Wednesday evening — "because there's going to be some more major, major announcements at the State of the State and more and more goodness coming to the state of West Virginia."
On Saturday night, Justice called a special session for today to consider several inter-related economic development bills. "Stay tuned for announcements of potential investments next week," it stated in the last line.
Both chambers of the Legislature were gaveling into the special session at 11 a.m. today, and finance committees were planning to examine the bills later this afternoon.
"That is, you're exactly right, the purpose of our being here in session two days before the regular session convenes," Hanshaw said on "Talkline."
The House of Delegates briefly convened, making plans for the House Finance Committee to examine the bills today.
Senators suspended rules and passed the bills with three quick votes each.
Justice's special session call generally describes a "policy to provide certain tax incentives, based upon certain investment and employment thresholds, to promote development and expansion of new labor and capital intensive heavy industry in this State."
"The company has to make substantial investments, nine-digit investments before any of the contribution or participation funds by the State of West Virginia are actually triggered at all," Hanshaw said today.
The tax incentives bill, called the West Virginia Industrial Advancement Act, was passed 30-1 in the Senate. The only senator to vote against the bill, Owens Brown of Wheeling, objected to the speed of consideration.
"I cannot see why it's being rushed through without actually looking at it," said Brown, a Democrat.
More senators also expressed caution but voted for the bill anyway.
"Any time we put West Virginians to work, that's a good thing," said Senator Mike Romano, D-Harrison. But, "I want us to be cautious. We're talking about a lot of money."
Senator Mike Woelfel, D-Cabell, agreed that "The devil can be, usually is, in the details." But Woelfel concluded "if it comes to pass, it will be of great benefit."
Five more policies for legislators to consider are supplemental appropriations bills. Several appear to be transfers of federal relief or stimulus money to state agencies. Another transfers money to the state Department of Economic Development.
The Governor's Office said an appropriation to the economic development department will capitalize on the state's strong revenues "to assure jobs and goodness for generations to come" and "to secure tremendous private investment all around the state.
"These appropriations will mark the largest investment in economic development in this state's history, and will pay untold dividends in recruiting businesses, their employees and families, and further private investment in West Virginia."
A major steel company, Nucor Steel of Charlotte, N.C., recently acknowledged evaluating locations in West Virginia.
In September, the company specifically described assessing property in West Virginia, Ohio and Pennsylvania for a new state-of-the-art, 3-million-ton sheet mill.
The new sheet mill is expected to cost about $2.7 billion. The mill was described as producing hot-rolled sheet products with downstream processing including a tandem cold mill, annealing capabilities and initially two galvanizing lines.
Nucor noted that once state and local incentives, permitting and other regulatory approvals are received, construction is expected to take two years.
Nucor is known as the largest steel producer in the United States, as well as the largest "mini-mill" steelmaker. That is a small-scale steel mill that uses scrap metal for starter material. Nucor is also the biggest recycler of scrap in North America.
The company also announced one month ago that it is looking for a site to build a rebar micro mill budgeted at $350 million. The company's announcement said it was looking for a site in the South Atlantic region.
"We have recently executed two successful rebar micro mill start-ups and believe the East Coast market will be in need of additional rebar supply in the coming years, particularly with the recent passage of the infrastructure spending bill," stated Leon Topalian, president and chief executive officer of Nucor.
The other two micro mills are in Florida and Missouri.
Rebar is used primarily in the construction of roads, buildings, sidewalks and other structures. Because of the variety of its end uses, rebar has had resilient demand characteristics over the last 20 years, and the company believes the rebar market is expected to show continued strength.
"Rebar has been a core business for Nucor since we got into steelmaking and this project will enable us to maintain our leadership position in the rebar market," Topalian stated.