Gov. Jim Justice is proposing a relatively flat state budget, with pay raises for state employees as the most conspicuous addition.
Justice characterized his proposed $4.6 billion budget as just 1.4 percent higher than last year. The governor traditionally describes the highlights of his budget proposal in his annual State of the State address, but Justice was unable to do so this year because of a case of covid-19.
Instead, Justice submitted a text version of the State of the State. Lawmakers started going over the details today.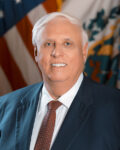 "For the fourth year in a row, I am proposing an essentially flat budget, which includes a third historic pay raise and Inflatocine for our state employees," Justice wrote, referring to his term for an employee bonus that he intends to serve as a sort of vaccine for the effects of inflation.
Both the Senate Finance and the House Finance committees started going over the budget, along with state revenue projections, during committee meetings today.
The budget proposal includes an average 5 percent pay raise for state employees through the general revenue and state lottery funds. Officials are cautious about phrasing the financial path that way because many employees work for offices or agencies that are significantly funded by other forms of revenue such as fees.
The 5 percent average actually translates to $2,550 for state workers, $2,440 for teachers and support staff and $1,225 for school service personnel, said state budget director Michael Cook.
The total amount of the pay raises is $109 million.
The budget that state officials are working on actually goes into effect for the coming fiscal year, which begins July 1.
Cook pointed out, elaborating upon questioning by lawmakers, that the bonus the governor promised to state employees would actually apply to the current fiscal year — so it is not reflected in the coming year's budget.
That was one of the requests for elaboration by Senator Dave Sypolt, R-Preston: "Is that going to be included in the budget, or is that intended to be paid out of excess funds for the current fiscal year?"
The bonuses will come through a supplemental appropriation that is a combination of a remaining unappropriated balance for the current fiscal year plus money made available through a revision of the current fiscal year's revenue estimate.
The total expenditure for the bonuses is $54 million.
Senator Eric Nelson, R-Kanawha, asked whether state officials will provide a six-year budget outlook that traditionally has helped people get a sense of long-term projections. Last year, no such six-year plan was provided. 
"Are we going to get a copy? What is the plan?" Nelson asked.
Cook suggested lawmakers should get a better sense of the longer-term outlook through coming presentations.
"You're going to see significant increases in the estimates of revenue for the out years," he told Nelson. "You could have a sense of where you could be in the next couple of years."
Nelson reiterated, "I do ask that this year we do get that six-year plan."
Senator Ron Stollings, D-Boone, asked what effect millions of dollars on federal funding would have on state finances. Cook noted that he was providing budget information about general revenue and lottery funds — and that the unprecedented levels of federal funds would not be reflected.
"At some point, it would be nice to see the federal side of this too," Stollings responded. "We'd like to make sure those are being spent appropriately as well, since we are the appropriating body."