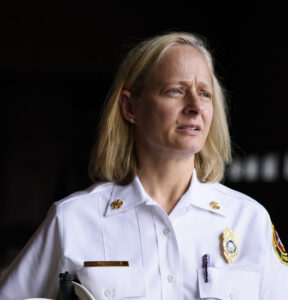 HUNTINGTON, W.Va. — Huntington Fire Chief Jan Rader has announced plans to retire. Rader has been with the Huntington Fire Department for 27 years and in her role as chief has captured national attention in the city's battle against the opioid epidemic. She admitted leaving the department wasn't an easy decision.
"It is a little tough after 27 years, but it is time," she told MetroNews.
She won't be headed to the rocking chair however. Rader in leaving her position as city fire chief will take a newly created position in the office of Mayor Steve Williams. She'll become the Director of the Mayor's Council on Public Health and Drug Control Policy.
"Mayor Williams has been a good friend of mine and has been instrumental in solving some decades long issues the fire department has had. He believes in me and he put me in this role, so it was my pleasure to retire and move over into the new role," Rader said.
Williams is expected to detail more information about the new position in the weeks to come. Rader said in the meantime, she'll make the most of her last month with the Huntington fire fighters.
Rader started with the department in August 1994. She rose through the ranks and was named the city's Interim Fire Chief in December 2016 and was promoted to the position permanently in March 2017. She became the first female chief of a professional fire department in West Virginia.
"We owe Chief Rader a debt of thanks for her leadership, her heart and her fortitude," Williams said. "Fortunately, we are not saying goodbye to her. While she may be saying farewell to the fire service, she will continue to assist our efforts in the battle against substance use disorder and the ongoing public health challenges facing our city, state and nation. We aren't done yet."
Rader's leadership of the fire department through the opioid crises often thrust her into the national spotlight. She said that wasn't a position she sought, but is grateful for the platform and believed it enabled Huntington to make better inroads to solving the substance abuse problems which have plagued the city.
"I think in ways it has helped. We are kind of 'national spokespeople' for it and I think it shows in our numbers we have been able to do some things that other areas of the country have not," she said.
Rader hoped to take her success and momentum into her new role.
Mayor Williams said he planned to form a citizens committee to help in the search for the city's next fire chief.