MORGANTOWN, W.Va. — Less than a week ago, West Virginia's 5 p.m. Tuesday matchup with Baylor at the Coliseum was thought to present an opportunity for the Mountaineers to play the nation's No. 1 team, a title the Bears held until Monday.
Following consecutive home losses to Texas Tech and Oklahoma State last week, Baylor is No. 5 in The Associated Press Top 25, though those results have done nothing to lessen the perception WVU head coach Bob Huggins has of the defending national champion.
"They're not a whole lot different," Huggins said. "Their guards may not shoot it quite as consistent as they did a year ago, but they're good. They can create really good shots for themselves and they create for others. Their two bigs have gotten much better. They have a freshman who plays on the wing at 6-foot-6 [Kendall Brown] and he's really athletic. Combine it with [Matthew] Mayer, who's every bit of 6-10 and plays on the perimeter, they're hard to match up with."
The Bears (15-2, 3-2) struggled offensively in both setbacks, being held to 41 percent shooting and 62 points against the Red Raiders, and managing only 54 points on 31 percent shooting in the most recent defeat to the Cowboys. BU made only 10-of-30 two-point field goals against OSU.
"You just don't get a break in this league," Huggins said. "We were in the Big East when I got here, and there were teams that quite honestly were a break. There's no breaks in this league and the travel in this league is hard. There are a lot of variables and sometimes you miss shots. They went through a stretch where they weren't making shots as consistently. We seem to do that by the half."
In its most recent game at Kansas, West Virginia struggled to make shots in both halves. Although the Mountaineers went to halftime having made only 7-of-31 field-goal attempts, their deficit was two points. WVU then shot 10 of 32 after halftime and struggled to maintain its level of defense from the first 20 minutes as the Jayhawks pulled away to win comfortably, 85-59.
The loss came four days after the Mountaineers (13-3, 2-2) put together one of their better performances this season in a 70-60 victory against Oklahoma State.
"The Oklahoma State game was the closest full 40 minutes we probably played all year," WVU guard Sean McNeil said. "In the second half, we had a lull for five or six minutes where we were up 16 and they cut it to seven or eight, but other than that, that was the closest to a 40-minute game that we've played throughout.
"The Kansas game, we competed really well in the first half. Basketball is a game of runs in general, but playing in Allen Fieldhouse and the crowd that they have there is obviously special, we knew they were going to throw punches and we had to continue to respond. We did that well in the first half, but in the second half, we came out extremely flat and stopped playing. But we're back home now and have [Sunday and Monday] to prepare for a really good Baylor team and a great opportunity ahead of us."
The Mountaineers are a perfect 10-0 at home thus far, while Baylor has won each of its three road games against quality competition — Oregon, Iowa State and TCU.
Tuesday's matchup pits two of the top 40 scoring defenses in all of college basketball. Baylor, surrendering 59.9 points per game, ranks 19th, while WVU is 39th allowing an average of 62.8 points.
WVU has encountered more issues offensively, with the Mountaineers scoring 59 points in both Big 12 losses and averaging a shade under 65 points in four league games.
Huggins believes improved rebounding could create more opportunities in transition, which in turn should allow his team to attempt shots of a higher percentage. However, that will be anything but easy against the Bears, who rank in the top 15 nationally with a plus 8.6 rebounding margin per game.
"You have to rebound it, outlet and run. We have had a hard time rebounding it and it's hard to run when you don't rebound," Huggins said. "We haven't rebounded it as consistently as we need to. It's hard to work on outlet passes and those kind of things for a very long time, because you have so many other things you have to do.
"In our league, people play a lot of variety of things. Baylor is not going to just play man-to-man. They're going to play zone. They're going to press. Everybody in our league does that to see if it sticks and if it sticks, they'll stay with it."
To improve its offense, West Virginia needs to get leading scorer Taz Sherman back on track. Sherman is averaging 18.9 points, but over his last five contests, he's averaging 13 points on less than 34 percent shooting. Forced to miss the Big 12 opener at Texas while in COVID-19 health and safety protocols, Sherman has struggled since, scoring 32 points on 11-of-33 shooting in three conference games.
"He's not 100 percent yet," Huggins said. "I'm not a doctor. I can't put a percentage on it, but I know he's not where he was."
McNeil, at 14.3 points, is the team's second-leading scorer, while Jalen Bridges has increased his production of late to average 8.8 points and 5.4 rebounds. Point guard Malik Curry shows a 7.9 scoring average after his 23-point effort in the loss at Kansas, while all-important reserve forward Gabe Osabuohien leads the team with 5.9 rebounds.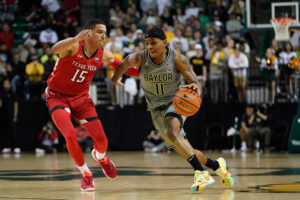 Baylor has four players averaging double-figure scoring, led by 6-1 guard James Akinjo's 13.9 average. Akinjo, in his first year at BU after previously playing at Georgetown and Arizona, has 97 assists — more than double Sherman's total of 40, which leads the Mountaineers.
Fellow guards LJ Cryer and Adam Flagler average 13.1 and 12.1 points, respectively. Brown (10.6 ppg) and Mayer (9.1 ppg) round out the team's top five scorers.
Baylor benefits from plenty of production from its taller players as well. Jeremy Sochan, a 6-9 freshman, is averaging 7.9 points and 5.9 rebounds. Jonathan Tchamwa Tchatchoua, a 6-8 forward, leads the team with 7.8 rebounds to go with 7.9 points, while 6-10 Flo Thamba has a team-high 18 blocked shots.
"That's why they've had the run that they've had," Huggins said. "They have really good players."
The Mountaineers are hoping to avoid two losses in a row for the first time this season, and with a trip awaiting Saturday to No. 18 Texas Tech, WVU finds itself in the middle of what would likely be considered its toughest three-game stretch.
"Whenever you take the beating that we took in Lawrence," Huggins said, "everybody is kind of foaming at the mouth to get to play again."