MORGANTOWN, W.Va. – The wait will continue for any groundbreaking for the Virgin Hyperloop project announced nearly two years ago.
That announcement concerned a proposed $500 million validation center on 500 acres in Grant and Tucker counties which developers said could earn regulatory approval to transport people and cargo by 2025.
Now, Virgin has changed course focusing more on cargo transportation. It released more than 100 workers recently.
WVU Senior Vice President of Economic Development Jim Hoyer said Virgin will now pursue cargo transportation options for the emerging technology over passenger travel.
"While bigger than many startups, they are in fact a startup entity so it's reasonable to see them go through some evolutions of the company as well as technology changes and focuses," Hoyer said on MetroNews "Talkline" last week.
Hyperloop technology has been approved for government funding as an emerging technology, according to Executive Director of Vantage Ventures at WVU Sarah Biller.
"Whether it's through the Consolidated Rail Infrastructure and Safety Improvement program (CRISI) $5 billion allocated to it or the Federal Rail Administration where we see $56 billion in funding," Biller said.
Hoyer said the West Virginia Department of Transportation and WVU have completed a grant application to get the project back on track.
"An application for the Federal Rail Administration to build out the concept of multimodal advanced surface transportation cargo demonstration project."
Virgin remains the only company to successfully test the technology with passengers on the 500-meter DevLoop facility near Las Vegas. Company officials say they have also conducted more than 400 successful unmanned tests at the facility.
"We still believe in Virgin Hyperloop and the technology as a whole," Hoyer said. "It's something important for us to diversify our economy and move forward."
The Hyperloop could move freight at speeds of up to 600-miles-per-hour. The autonomous system is built on columns or tunneled underground and is powered by a proprietary electric propulsion system. The system uses less energy and is essentially weatherproof.
The cargo system would ideal for address food supply chain issues.
"There's a significant opportunity here and it's an important opportunity for the state but as with all startups things are going to change," Hoyer said.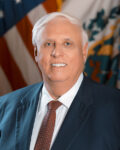 Gov. Jim Justice weighed in at Friday's media briefing. He said he's worked with the Virgin team and he's not surprised the project focus would change. Justice said he is committed to keeping the project alive to get to a groundbreaking.
"These people are good people and we're going to keep pushing them and they're going to keep pushing us," Justice said. "We're going to make it happen."
Justice promised additional comments at his Monday media briefing.
Hoyer said the state made no significant investment to win the Virgin project, only time spent by state leaders communicating with company officials.
According to Hoyer, the real value was the nation watched as West Virginia competed with 50 other states and won. He said that will lead to other people inquiring about doing business in West Virginia.
"This allows us to build stronger academic partnerships, both in state and out-of-state and it allows us to attract other technology companies in this whole spectrum of next-generation surface transportation," he said.