(Neal Brown post-practice press conference)
MORGANTOWN, W.Va. — The WVU football team completed their second week of spring practice Saturday morning with drills conducted at both the Caperton Indoor Practice Facility and inside Milan Puskar Stadium. This was the sixth of fifteen scheduled workouts.
"It was a mixed bag. You are always going to have a mixed bag when you go against yourselves. Today is kind of the first day we just put the ball down and let them play," WVU head coach Neal Brown said.
Brown acknowledged a handful of standouts on offense, defense and special teams. Continuing a trend for the first two weeks, offensive linemen led the way in positive mentions from Brown. He cited Zach Frazier, Wyatt Milum and James Gmiter for their play. Running backs Tony Mathis and Justin Johnson, and receivers Preston Fox, Sam James and Kaden Prather stood out. Brown estimated that Prather had over 200 receiving yards in Saturday's workout.
Defensive standouts included Taurus Simmons (multiple sacks), Lee Kpogba, Charles Woods, Marcis Floyd and. Jordan Jefferson. New kicker Parker Groathaus also earned a mention from Brown.
Starting right tackle Brandon Yates missed Saturday's practice with an injury. Brown expects Yates will return to practice Tuesday. Redshirt junior Ja'Quay Hubbard filled in and is expected to be an important contributor on the line this fall.
"Ja'Quay has really changed his body since he joined us coming from [Virginia]. I think he is growing at that position. He was a guy that really played interior O-Line when he was heavier. Now as he has kind of leaned up, we think his best opportunity to help us is at tackle. He has the opportunity to play both sides. But he got all the reps at right tackle today."
Quarterback Competition
Garrett Greene, Goose Crowder and Nicco Marchiol continue to split reps in the battle for the starting quarterback spot.
"Garrett threw the deep ball well today. That's the thing that really stuck out.
"Nicco was feast and famine. You always have to think about with these high school kids, he is a high school senior. He went out there and got reps with the [starters] in 'Power 5' football. No offense, Hamilton High School, they are really good. But there's a little bit of difference between that and going out and playing against our first group of defenders. The game is happening fast.
"Goose had a long run for a touchdown today on a draw play. I thought he did a good job of moving up in the pocket and hitting some plays downfield."
Next up at nose
With Thursday's surprise announcement that two-year starting defensive lineman Akheem Mesidor has left the program, several young Mountaineers are lining up for added snaps. Brown doesn't necessarily believe the team will pursue another defensive lineman from the transfer portal.
"I think it is too early to tell. I will be able to tell you after 15 practices. What I mean by that — Zeiqui Lawton, he is going to get a ton of reps. We want to see Eddie V [Vesterenin], he is not out there during the spring right now. We hope he can get back and do some drills toward the end of it.
"Jalen Thornton is a guy you have heard me mention. I think he continues to get better. This is going to be a huge spring for him. Jordan Jefferson was established from about the mid-point of last year. There's some games where he started and played a ton of snaps. We feel good about the direction he is trending. Dante [Stills] gives us some flexibility. We are keeping him out of the full tackle stuff. Taurus Simmons is a guy we really need to come on. Sean Martin — I think this is going to be a huge spring for him. He flashed today."
Practice photo gallery — courtesy of Ben Queen Photography
Brown admits he was 'sad and hurt' following Mesidor's decision to transfer. But he believes his system of 'pouring into the student-athletes' will yield more positive outcomes than departures.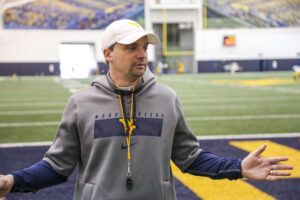 "There's going to be instances in the world we live in in college football now where you are going to do everything you can for certain individuals and they are still going to leave. To me, you sit there and think, 'Well, we are doing all this. Is it worth it'? Absolutely, yes it is worth it. We are going to have a lot more success stories than we do when you really hurt that you grow and develop and they leave.
"We don't have a culture problem here," Brown said. "If you look at the sideline and you look and see how the kids interact and you look at the staff and the player interactions, those are really clear to me."
Brown added that certain windows for student-athletes to transfer may help programs better manage defections to the portal.
"We have free agency and it is 365, 24/7. There's not another enterprise that has free agency 365, 24/7," Brown said. "We have to have some time frames around the free agency."
Salute to the newest Hall of Famer
Brown opened up his press conference Saturday by saluting Bob Huggins. WVU's 15-year men's basketball head coach was officially announced Saturday afternoon as a member of the latest class in the Naismith Memorial Basketball Hall of Fame.
"I grew up in Central Kentucky, not very far away from [Cincinnati] when he was establishing his program. I thought I was a basketball player. Everybody in Kentucky thinks they are a basketball player. Growing up with his teams with [Nick] Van Exel and all those guys — they had the baggy shorts. They were the Jordan brand and all that kind of stuff. They had a cool factor. We had a team that ran up and down the floor and that's how he was playing."