ROMNEY, W.Va. — State education officials say they plan to demolish what's left of the former administration building at the West Virginia School for the Deaf and Blind within the next few months.
The building burned down in a fire on the Romney campus on Feb 26.
Stephanie Abraham, an attorney for the state Department of Education, recently told members of the state Board of Education there is interest in tearing it down.
"The bids for demolition closed on April 7. We received four from four different vendors. Our award memo from our finance department went out to state purchasing last week. They have to go through a review process and determine the lowest qualified bidder at which point it will also be approved by the Attorney General's Office," Abraham said.
Once the contract is awarded, the vendor who is awarded the bid can immediately get to work.
"We fully expect demo services to be complete within the next three to three and a half months," Abraham said.
The demolition process coincides with the state's efforts to save contents inside the administration building. Abraham said they've been working with the state Department of Arts, Culture and History to secure an appraiser to go through over 2,000 photos of the artifacts.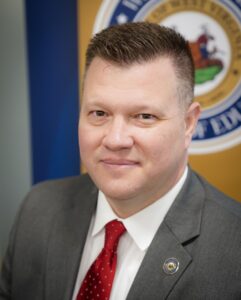 "For insurance purposes, hopefully we can recover from some of that," she said.
State School Superintendent Clayton Burch said they are also working to save the historic bricks from the building, which was built in the 1860s. Burch said alumni have expressed interest in keeping the bricks as well as a spot on campus to remember the tragic fire.
"We do want to dedicate some time and energy to a memorial," Burch said. "We want to make sure that we are able to save many of the bricks from that facility."
Meanwhile, several projects have been happening around campus to improve safety.
Abraham said projects include three roof replacements, relighting, installation of new fire alarms and door replacements.
The fire was ruled undetermined by the state Fire Marshal's Office due to an extensive amount of damage.
There were no students on campus at the time of the fire because they had gone home for the weekend.