MORGANTOWN, W.Va. — West Virginia education leaders talked about what the future holds at the fourth Focus Forward symposium held in Morgantown Wednesday afternoon.
The forum, sponsored by West Virginia Public Education Collaborative and Claude Worthington Benedum Foundation, included comments about how the state should use federal relief dollars.
West Virginia received $4 billion from the American Rescue Plan- half of the money was paid to municipalities this year and the balance will be paid next year. The bipartisan infrastructure bill send about another $7 billion to the state over the next ten years.
Focus Forward is an opportunity for business, education, political and industry leaders to explain ways to leverage these dollars and develop plans to maximize this one-time investment.
Marshal University President Brad Smith said filling the pipeline with educated available talent will put the state in position to make the most of this opportunity.
"The strategic intersection faces us right now, and that is all these secular opportunities that we have an opportunity to capitalize on are playing in our favor and what we need to do is embrace them," Smith said.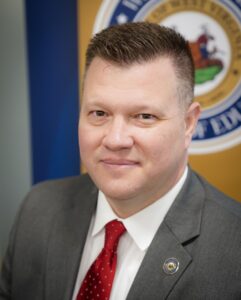 Fewer high school graduates are entering college, more are taking the vocational path or even an apprenticeship. Coupled with a labor shortage businesses are facing, more schools offer opportunities to earn college credits decreasing the time it takes to be workforce qualified. State superintendent of Schools Clayton Burch said many of these partnerships are in place across the state.
"I encourage any community college or any high school or technical high school to foster and build those relationships," Burch said. "We want to make theses pathways as seamless as possible for our students."
At the community college level the relationships with business are more detailed.
An example of that in West Virginia would be NewForce, according to Chancellor of the West Virginia Higher Education Policy Commission Sarah Armstrong Tucker. The program is a tuition-free program with curriculum created by the employer that creates qualified graduates in about six months.
"We go to companies and say, "tell us what you need and we'll build it," Armstrong-Tucker said. "So, we've been really successful in building our programs that way and making sure we have a constant feedback loop from industry about the quality of our graduates and getting them into our programs."
National co-chair of the Appalachian Regional Commission (ARC)and former president of the West Virginia Board of Education, Gayle Manchin said education is not only a top priority for the commission, but it empowers communities.
"Economic development and workforce- that's education," Manchin said. "A community that is educated and trained is a vibrant community- you've built your economic vitality there."
The ARC encourages municipalities to develop problem solving and development ideas with state leaders to present to the ARC for possible grant funding.
"ARC is that third leg on the stool," Manchin said," When it has state and local buy-in, then we definitely buy-in."