NITRO, W.Va. — A team of West Virginia agencies has determined that writing tickets is the most effective way to get motorists to drive the 55 mph speed limit through work zones.
There's a renewed effort underway by the state Division of Highways, West Virginia State Police, the state Public Service Commission and other agencies to slow down drivers in hopes of avoiding work zone accidents.
The first targeted enforcement took place for a few hours Friday afternoon on Interstate 64 between Nitro and Scott Depot where the road is being widened to six lanes along with the construction of a new bridge over the Kanawha River. It didn't take long for troopers and PSC commercial traffic enforcement crews to find speeders.
"It's like shooting fish in a barrel," WVSP Lt. Chris Zerkle said as he pointed a handheld "Light-R" gun at approaching motorists from his perch on a top of a piece of heavy equipment parked in the median.
"We're not trying to ruin people's day," Zerkle said. "We're just trying to slow people down."
When the speed measuring device displayed a speed in excessive of 55 mph on the screen, Zerkle would radio awaiting troopers a few hundred feet down the interstate who would then pull the motorists over.
There was a driver with Virginia plates Friday that was going 81 mph.
Zerkle said a ticket is the better alternative.
"We would issue that citation to you than deliver a message that you crashed with excessive speed and somebody lost their life," he said.
Zerkle's been with the state police for 28 years. He said drivers are generally more distracted. He said every day travelers through work zones tend to increase their speed over time.
"People get lax. They start to push the envelope," he said.
Big trucks speeding through work zones can cause even more problems, PSC Transportation Sgt. Matthew Epling said.
"There's a lot more potential for major accidents when they are involved. We just want to make sure they are traveling safely here and everyone goes home at the end of the day," Epling said.
The PSC wrote several tickets during Friday's enforcement. Several of the big trucks were in the 70 mph range.
Statewide effort
There's an enforcement effort coming to a work zone near you, state Department of Transportation spokesman Randy Damron said.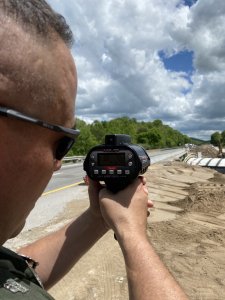 "We're going to go to Beckley on I-77 for that project, also on I-79 up in the Fairmont/Morgantown area, I-64 in Barboursville and other work zone projects across the summer," Damron said.
The state has spent a lot of federal safety dollars in past years promoting work zone safety including billboards, radio and TV public service ads and other efforts, but Damron said it really hasn't moved the needle.
"What we've learned and what we've determined is the only way to effect work zone speed is through enforcement," Damron said.
Division of Highways State Safety Officer Shane Hudnall said getting into the pockets of drivers gets into their brains.
"All of the signs and the cones and the barrels and everything that we put out there sometimes isn't as effective—-but a ticket can be," Hudnall said.
Fines are doubled for those caught speeding in work zones.
Roads to Prosperity impact
West Virginia probably has more major road construction projects going at any one time in its history with the Roads to Prosperity program.
"We're proud of that but we're also proud of our workers who want to return to their homes safely after a day of work," Hudnall said.
Hudnall said just last week the Ohio Department of Transportation reported its 82nd work zone accident this year. He said several of those have included life-threatening injuries. There were 889 crashes in West Virginia work zones in 2021, claiming five lives and injuring more than 300 people.
"It's very scary. You have to have your head on a swivel. I can't stress enough how important it is to slow down in our work zones," Hudnall said.
State Transportation Secretary Jimmy Wriston is committed to zero work zone deaths this construction season.