CHARLESTON, W.Va. — Robert Martin, the State Resilience Office Director for West Virginia told a crowd of state lawmakers, local officials and national flood experts on Wednesday that the pattern of flooding across the Mountain State can be minimized with a strong plan in place.
Martin was a featured speaker during a two-day flood symposium at the Charleston Coliseum and Convention Center that runs through Thursday. One of the goals for the group of around 80 officials is to coordinate activities and policies to help minimize flood devastation across jurisdictions by crafting a new Flood Protection Plan for West Virginia.
"What we're trying to do is come up with methods and an overall strategic plan for the state to mitigate some of the flooding that occurs regularly here," Martin said.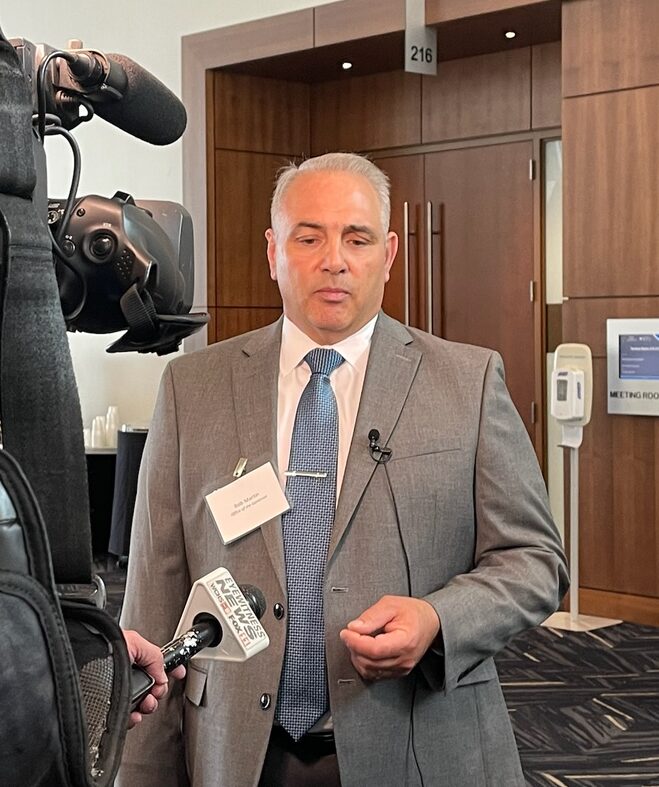 "We can't get around flooding, we just try to mitigate it when it does occur."
West Virginia first developed a Flood Protection Plan in 2004 but it has not been updated since that time. Martin told the media that the plan needs to be brought into current-day technology. An example he gave was with outdated stream gauges.
"The new systems are more cost effective, they last longer. They can use solar energy to power them. There is a lot of technology that goes with it, that has brought gauges on streams to be able to give you information to predict what is occurring in the waters," Martin said.
West Virginia has experienced destructive flooding throughout the years since the plan was developed including the catastrophic flooding of June 2016 that killed 23 people. The issue of flooding once again took center stage earlier in May when flash flooding damaged parts of the Huntington community and resulted in the death of a Milton man.
Martin said parts of the recent flooding in Huntington could have been prevented with an updated plan. He said the plan should be able to make flooding not as high or rapid, not last as long or more frequent, and impact fewer citizens.
"There were some things there where streams may not have been as clear as they could have been," Martin said of the recent Huntington flooding. "There were some buildings that were put into place that should not have been put into place or extended into the flood plain as far as they were."
Martin said the plan won't need to be approved by anyone but will be presented to the Legislative Flood Committee. The body hopes to update the plan every two years and review it annually.
Martin said his office wants to establish and facilitate regular communication between federal, state, local, and private sector agencies and organizations to further economic and disaster resilience.
Sen. Chandler Swope (R-Mercer), Co-Chair of Floods Committee and Sen. Stephen Baldwin (D-Greenbrier), Member of Floods Committee both spoke at the symposium. Mayor Steve Williams, Mayor of Huntington, Dr. Chris Emrich, University of Central Florida and Dr. Nicholas Zegre, West Virginia University are all scheduled speakers.
"There is not a full-on, holistic idea of what each community needs to do and what the state has to do, to put plans in place and do mitigation work that will assist everybody," Martin said.