CHARLESTON, W.Va. — West Virginia Intermediate Court Judge Dan Greear has been chosen the new court's first chief judge.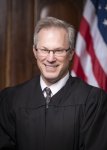 Greear and fellow ICA judges will rotate the first few years of the position. Greear will serve the rest of 2022 and 2023. Judge Tom Scarr will be chief judge in 2024 and Judge Charles Lorensen will serve in the leadership role in 2025.
"I am honored to have been chosen by my colleagues to be the first chief judge of this
new court. We have a unique opportunity to build a new appellate court from scratch, and we want to build one that is accessible, transparent, and fair," Greear said in a Friday news release.
During an ICA advisory panel meeting in March, state Supreme Court Chief Justice John Hutchison talked about the challenges of getting a new court up and running.
"You know, to some extent we're flying this airplane as we're building it so we're trying to make sure we at least don't crash," Hutchison said.
"And our goal is absolutely to have the best intermediate court of appeals that we can have in the state of West Virginia, and that it operates appropriately based upon its mission as outlined by the Legislature."
The ICA, which officially begins its work July 1, also announced Friday that it will operate satellite courtrooms in Grant, Lewis, Morgan, Raleigh and Wetzel counties where litigants can appear and argue their cases by video. Those involved in the appeals will also have the option of arguing their cases in person before the three judges in Charleston.
According to the news release, the locations were chosen based on security, parking and accessibility. Each location will have a waiting room and a courtroom equipped with "professional-grade conference equipment."
The legislature created the new court in 2021. The judges will hear appeals of civil cases, appeals from family courts (except domestic violence cases), appeals from state agencies or administrative law judges, and Workers Comp appeals.
Gov. Jim Justice appointed all three judges to staggered terms.
Greear's term ends on December 31, 2026; Judge Scarr's term ends December 31, 2024; and Judge Lorensen's term ends December 31, 2028.  The ICA judges will then be on spring election ballots with other judicial candidates. Terms will run 10-years.