MORGANTOWN, W.Va. – Bartlett Housing Solutions at Hazel's House of Hope on Scott Avenue is partially back in business following a May 1 storm that ripped the roof off most of the building.
When the storm hit about 30 people in the building were not injured and evacuated to hotels or other housing options. Executive Director of Bartlett Housing Solutions Keri Demasi said clients in the upper floors have not been able to return, but all other clients have.
"We were able to move out triage clients that were displaced from the storm that were being housed in hotels back into the shelter," Demasi said.
For now, new intakes cannot be processed due to continuing roof work above the entrance area.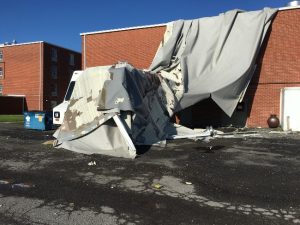 "They have to put gutters and some other additional parts on the roof over the main entrance on," Demasi said. "I know they've been working diligently and MCR (Morgantown Community Resources) has been in communication with us and keeping us updated."
While repairs were being made to the facility the work of Bartlett continued. Demasi said the Fairmont-Morgantown Housing Authority has helped with emergency vouchers to help some of the clients.
"Our case managers have been working around the clock to identify housing units within the community to get people moved in," Demasi said.
Over the nearly four weeks since the storm, Demasi said there have bee some long and uncertain days as work went on. She said the outpouring of support from the community has been very important to the clients and keeping the organization in operation.
"Sometimes when you deal with adversity it really allows an organization to show what they're capable of. Our team of folks has really come together and we've seen amazing response from the community."
Staffing issues have also hit the social service sector. Demasi said they have an immediate need for staff at all positions in the shelter. The shelter operates 365-days a year and has a variety of opportunities for people to help in the community.
"Ongoing staffing shortage and Bartlett is in desperate need of triage assistants to help work in the shelter," Demasi said.