FAIRMONT, W.Va. — Despite record-setting gas prices across the United States, millions of Americans will travel this Memorial Day weekend.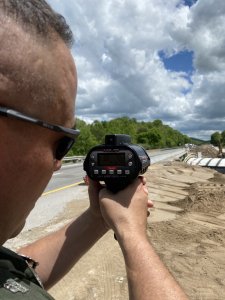 According to AAA, 39.2 million people will travel 50 miles or more to their destination, an increase of more than 8% from last year.
West Virginia State Police trooper Greg Baker said drivers need to remember four major rules while on the road.
"Slow down, stay off your phone, wear your seatbelts and pay attention to what's going on around you," he said.
West Virginia motorists should expect to see an increased presence of troopers and local police during the holiday weekend. Baker noted the leading violation in West Virginia is not wearing a seatbelt.
"We're out patrolling for seatbelts, and everyone knows seatbelts save lives," he said.
Motorists should also respect speed limits in construction zones and eliminate all distractions in these areas. The state Department of Transportation held a memorial service on the steps of the state Capitol in April to honor the 61 highway construction workers who have died while working on projects.
"In construction zones, the speed limit is 55 mph, and the fines are doubled in a construction zone," he said. "If you get caught speeding in a construction zone you're going to pay double the fine of a regular speeding ticket."
Baker also advised people to select a designated driver for events involving alcohol.