CLARKSBURG,W.Va. — Councilman Jim Malfregot said he doesn't know how he'll ever be able to able to repay his friends and neighbors and the entire community for supporting him during the past 20 months.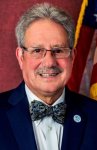 "The outpouring of love and gifts and food that they fed my family while I was in the hospital for 38 days–I'm just blessed to be here," Malfregot said.
He was a guest Wednesday on WAJR's 'Talk of the Town' a day after the man who shot him in September 2020, Delaware native Antonio DeJesus, was sentenced to 73 years in prison.
"He had five misdemeanors and four felonies on him," Malfregot said. "He doesn't need to be on the streets of Clarksburg, Morgantown or even Delaware, so I was happy with Judge Bedell's (Harrison County Circuit Judge Thomas Bedell) sentencing."
DeJesus was running from someone else when he carjacked Malfregot's vehicle, which had his wife and mother inside. DeJesus shot Malfregot when he came out on his porch to see what was going on.
Malfregot said he has had multiple surgeries over the 20-month period, the most recent 10 weeks ago. Malfregot has had to make several trips to the Cleveland Clinic for each one of the medical procedures.
In addition to the medical issues, Malfregot also waited with prosecutors through a wave of motions from the defense designed to reduce the defendant's legal exposure. Those motions included a defense sentencing delay to allow DeJesus' family to testify and another to force Bedell to recuse himself from the case due to conflict of interest. Bedell denied that motion Tuesday.
"It's like it's been an ongoing thing," Malfregot said. "Every two, three or six months something new would pop up. The trial was delayed four times- it was just crazy."
Malfregot said the entire experience has changed his outlook on life and the world. As for forgiveness for the defendant, Malfregot said that may come in time.
"On the way to Morgantown I crossed over- I was standing in a wheat field and a voice said "not yet," so my faith in humanity has always been great but now it's through the roof."