(Story by Taylor Kennedy)
FAIRMONT, W.Va. — Best Virginia is eight days from beginning its quest for the one million dollar TBT prize in Charleston. The WVU-based alumni team defeated West Virginia Tech, 100-60 in an exhibition game at Fairmont State University.
"Only one practice. It was not bad," said Best Virginia head coach James Long. "They are trying, and they are trying to build through the week. I thought we did some of the little things well. Only so much you can accomplish only having one day of practice. I am excited about this team."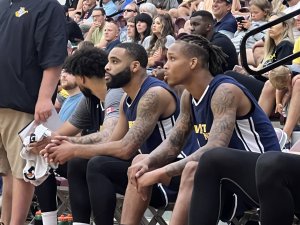 Kevin Jones, West Virginia's all-time leading offensive rebounder, continues to see camaraderie from the team, despite only being together for a short time. He finished the game with 14 points and 8 rebounds.
"We got together yesterday, and things need cleaning up. I am still confident and like what I see," Jones noted. "We have a whole week to clean things up.
"I think I played ok. I know my job on the team is to be who we need, whether a rebounder or scorer. I am going to try and be a chameleon."
The original score was 91-55 going into the Elam Ending with a target score of 99. The score adjusted to 91-87, allowing Best Virginia to play through a closer ending. John Flowers nailed the winning shot connecting on one of his seven triples. The six-foot-eight forward led all scorers with 21 points, including 12 points in the second half.
Despite the winning outcome, Long wants to continue seeing this year's team progress positively instead of regressing.
"We need to continue to build that consistency," Long stated. "When there is so much anticipation to get into the tournament, sometimes it is tough to keep your focus for a whole week because you are excited that you are in it and playing. We must stay present, engaged, and build throughout the week."
Best Virginia's defense stepped up throughout the contest. BV forced 10 Golden Bear turnovers, and swatted away five shots.
"We need to be great off-ball defenders," Long said. "I think on-the-ball will be great, but we must continue resisting on the ball with great hands. There is no point having all this length if we chase our man around. We must ensure that we are off the ball in the gaps and taking up space."
All nine players scored this evening, but the play of former West Virginia guard Juwan Staten filled the stat sheet. Staten recorded a near triple-double pouring in 9 points, 9 rebounds, and 11 assists.
"He is such a presence at the rim," Long noted. "He is a leader. He has always been a coach on the floor, but the older he gets, the better. He has been impressive since one day back. He has improved from last year and is moving and shooting it well. He is going to be a force in TBT for sure."
Long announced last week that he would accept a position with Court XIV in North Carolina.
"It is going to be weird all year watching them," Long stated. "I will miss them a lot: great kids and even better people. George [Wilmore] is going to do a great job, and I am not worried in the slightest. The best days are ahead of them at Tech."
Despite the outcome before the Elam Ending, Wilmore saw positive sparks from his squad. Junior Andrew Work and former South Charleston all-state standout Tamon Scruggs combined for 30 of the Golden Bears' points, and the two combined for six triples.
"We played well," Wilmore said. "We moved the ball well. I liked how our young guys looked. I thought they were not scared of the moment. The length of Best Virginia hurt us, especially when we are out three of our bigger guys."
Tonight's game also provided an opportunity for Jamel Morris, former Fairmont State Falcon guard and All-MEC first-team selection, a chance to play back in Joe Retton Arena.
"It was a surreal feeling," Morris noted. "I have not played a game here in this arena since I graduated. A little more blue and gold than what I am used to seeing."