MORGANTOWN, W.Va. — A man charged in connection with a Monongalia County has been extradited back to West Virginia.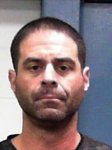 Arlo Romano, 42, is now in the North Central Regional Jail.
Romano was arrested last month following a shoplifting call in Uniontown, Pennsylvania. Monongalia County deputies had been looking for him after the May drug-related shooting of Monongalia County resident Matt Moore.
Romano had been spotted in Chestnut Ridge Park in Monongalia County in the days before his arrest in Pennsylvania.
Police said Romano stole a motorcycle in Preston County and made his way to the Uniontown area.
Romano and Cleotis "Ghost" Eppes, 42, of Harbor Woods, Michigan, alleged shot and killed Moore on May 6 on Round Bottom Road over "missing drugs."
Romano has been charged with first degree murder and conspiracy and is being held without bail.
Eppes has been charged with first degree murder, conspiracy and conspiracy to deliver controlled substances. He's also in jail.