West Virginia's Senate will dive into heavy debate over a comprehensive abortion bill on Friday.
This morning, a majority of senators agreed to consider both amendments and passage of the bill during a floor session scheduled for 1 p.m. Friday.
West Virginia delegates on Wednesday passed an abortion bill with narrow exceptions following the U.S. Supreme Court's reversal of Roe vs. Wade's federal guarantees.
So the Senate is the next step.
The Senate has not planned any committee meetings on abortion policy, a decision that has rankled some Democrats. Senators have been discussing their positions during private caucus meetings.
One big issue is whether a majority of senators will accept or reject a narrow provision resulting from a House amendment to allow abortions in cases of rape or incest once a report is made to law enforcement and if a medical professional assesses that fewer than 14 weeks of gestation have gone by.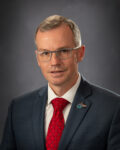 Senate Finance Chairman Eric Tarr, earlier this week, acknowledged differences of opinion within the Republican supermajority. He said it's been unclear where the full  majority in the Senate stands on the proposed exemptions.
"I think the main debate right now is probably around whether you exempt cases of rape and incest," Tarr, R-Putnam, said on "580 Live" on WCHS Radio. "I think that goes beyond party affiliation. It comes down to a lot of anecdotal stuff that people have experienced in their family and what that means to them."
But Tarr indicated he opposes the exemptions.
"I feel like a child that may be ill conceived is still a life. There's still life at conception with that child and killing the child in the womb is no different than killing a child when it's 20 years old. Say, 'Well, your child was a rapist so we're going to shoot you in the head. That's just absurd.
"And to say that we're going to save the mother from harm by not having her carry a pregnancy to term that was due to rape or incest, you can't assume that there's no harm to this lady for having gone in and choosing to kill a child. She's going to have to live with that the rest of her life."
After the U.S. Supreme Court reversed the landmark Roe vs. Wade federal guarantee of abortion and sent policy decisions back to states, West Virginia lawmakers took up the abortion bill in a special session that started Monday.
House Bill 302 encompasses a range of abortion policies, eliminating any period after conception for a choice to end pregnancy. In recent years, West Virginia law had allowed abortion up to 20 weeks of gestation.
The bill maintains criminal penalties of three to 10 years of incarceration for medical providers who perform abortions — the main provision of a law from the 1800s that had been inactive while Roe was observed — but specifies that the pregnant woman would not be charged.
The bill allows exceptions for a nonmedically viable fetus, an ectopic pregnancy, which is when a fertilized egg implants and grows outside the main cavity of the uterus, or a medical emergency, which is defined as a condition that requires an immediate abortion to avert the patient's death or to avoid serious risk of damage to a major bodily function.
A medical emergency does not, in the bill, include psychological or emotional conditions.
The bill specifies several things that are not considered an abortion: a miscarriage, a stillbirth, use of established cell lines derived from aborted human embryos, treatment by a licensed medical provider that accidentally terminates or severely injures the fetus and in vitro fertilization.
Senator Ron Stollings, D-Boone, expressed concern about the bill today from a medical point of view. Stollings is a doctor.
In particular, Stollings wondered what reaction obstetricians and gynecologists will have to West Virginia policy.
"My concern is, if this bill passes, you're gonna have a situation where the medical decision making is impacted in a negative way, worried about whether you're going to be sued for not doing something in time or imprisoned by doing the right thing medically but might become afoul of this legislation," Stollings said on the Senate floor today.
He reiterated that concern during an appearance this morning on MetroNews' "Talkline."
Senator @stollingsforwv, (D, Boone) speaks with @HoppyKercheval about the abortion issue and OBGYN "Deserts". WATCH: https://t.co/wkudfIRZCB pic.twitter.com/4G6uCctvh3

— MetroNews (@WVMetroNews) July 28, 2022
The West Virginia chapter of the American Chapter of Pediatrics put out a statement this week to say it is "strongly opposed to the criminalization of medical care.
"Our patients have the right to access comprehensive, evidence-based reproductive health services, including abortion. Medical decisions are made by patients in the context of the patient-physician relationship; legislators have no role in this process," the organization stated.
Senator Mike Caputo, D-Marion, said he would benefit from committee meetings that bring out points of view like that.
"As a lay person, I need to hear from docs. I need to hear from women who went through this for good reasons or bad. I need to hear that to make a good sound decision, but unfortunately because we're doing this from the floor we're not going to have an opportunity to do that," Caputo said.