WILLIAMSON, W.Va. — A classic flash flood is blamed for problems today in Mingo County.
A cloudburst of rain over the Williamson area round 9 a.m. Monday caused massive runoff from the mountain where the Williamson airport is located. The flow came into the streets of the city where the storm drains couldn't handle the water.
"We know our grounds are saturated and all of our creeks and streams are full, so we had just enough rain to impact how we handle storm water," said Williamson Mayor Charlie Hatfield.
He spoke to MetroNews while standing along Vinson Street in the city, the longest street in his town which was covered in a foot of water.
"There will probably be some homes damaged due to the impact of what's going on on Vinson Street," he said.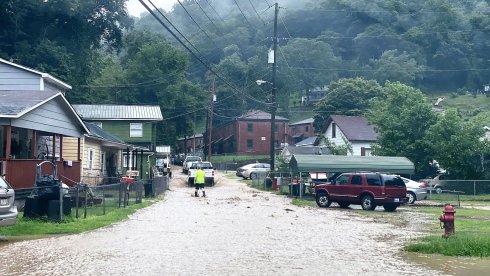 A dispatcher at Mingo County 911 said soon after the rain began, emergency phone lines into the facility had been backed up with callers asking for help. He noted a number of requests for water rescue and flooded roadways in the county.
The West Virginia Division of Highways closed off U.S. Route 52 near Williamson and also getting in and out of Chattaroy was stopped emergency crews due to the flooded roads.
Attempts by MetroNews to contact people inside of the Chattaroy community have been unsuccessful with phone lines in the area apparently impacted by the flash flooding.
The incident  comes as Mingo County already had some impact from high water last week on Gilbert Creek where a number of homes and bridges were damaged by the flash floods.  The storm which caused the Gilbert Creek flood is the same which which caused widespread flooding in neighboring Kentucky and claimed at least 30 lives.
The Mingo County courthouse closed at noon according to the state Supreme Court amid the rising water.
All courts in Mingo County are closing for the remainder of the day today, Monday, August, 1, due to flooding. pic.twitter.com/88WpGaHLyC

— West Virginia Courts (@WVcourts) August 1, 2022
Governor Jim Justice is due to visit Mingo County at 3 p.m. today to have a look at the flood damage and cleanup work which is underway.