VIENNA, W.Va. — Cabell Midland, George Washington, Fairmont Senior, Winfield, Williamstown and Charleston Catholic all won school championships in the 2021-2022 Champions Cup. The WVSSAC released the final results for the school year on Friday.
The annual competition combines results of all WVSSAC-sponsored sports in a points system which is broken down by three classes. For full results with the top teams in each class, 2021-2022 Champions Cup.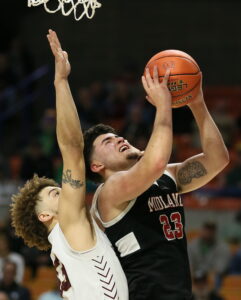 Class AAA
Boys – Cabell Midland earned points in eight of the ten WVSSAC-sponsored sports to win the championship with 867.5 points. The Knights were runners-up in golf, semifinalists in soccer and football and quarterfinalists in basketball. MSAC rival George Washington was second. Morgantown, Jefferson and Wheeling Park completed the top five.
Girls – In a tightly-contested competition, George Washington (685) edged Morgantown (684.5) by less than a point. The Patriots won team championships in soccer and swimming. GW also posted top four finishes in cheerleading, tennis and volleyball. Morgantown swept team titles in cross country and track. Hurricane (678.5) was third. Jefferson was fourth. Bridgeport and Wheeling Park finished tied for fifth.
Class AA
Boys – Fairmont Senior posted high finishes in five sports to win the title. The Polar Bears (683 points) won team championships in football and basketball. FSHS also claimed runner-up finishes in wrestling and baseball and a regional championship in soccer. Herbert Hoover (571) is the runner-up in Class AA. The Huskies won the state title in golf. Point Pleasant finished third. Shady Spring was fourth. Bluefield and Keyser were tied for fifth.
Girls – Winfield earned points in six of the nine sports to claim the championship, The Generals (686.5 points) swept team titles in cross country and track. WHS was the state softball runner-up. Fairmont Senior (583) finished second. Philip Barbour, Oak Glen and Shady Spring completed the top five.
Class A
Boys – Williamstown claimed the Class A team championship by a comfortable margin. The Yellowjackets (587 points) won team titles in cross country and tennis. The Jackets were also state runners-up in football and state semifinalists in baseball. Charleston Catholic (494 points) finished second. The Irish won titles in baseball and tennis. Doddridge County, St. Marys and Wheeling Central Catholic completed the top five.
Girls – Charleston Catholic scored points in six of nine sports to win the competition with 677 points. CCHS won team titles in tennis and soccer. Williamstown (588 points) finished second in the competition. The Jackets won titles in volleyball and track. Doddridge County, St. Marys and Ritchie County rounded out the top five.