Marshall football coach Charles Huff named Henry Colombi the team's starting quarterback Thursday to begin the 2022 season.
Colombi will be behind center September 3 when the Thundering Herd welcomes Norfolk State for its 3:30 p.m. opener.
In his first season at Marshall, Colombi was awarded the starting quarterback job in what became a two-man battle for the title between he and Cam Fancher during preseason camp.
Huff cited Colombi's experience as a key reason he won the job, but also made note of the improvement displayed by Fancher, a redshirt freshman who will start the season second on the depth chart.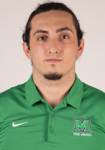 Colombi is at his third school after three seasons at Utah State and two others at Texas Tech. Most recently, as a Red Raider, Colombi completed 95-of-148 passes for 1,291 yards and five touchdowns in 2021.
He also saw extensive action at TTU in 2020, when Colombi completed 109-of-166 passes for 1,065 yards.
For his college career, Colombi, a native of Fort Lauderdale, Fla., has thrown for 2,816 yards and 15 touchdowns while completing 67 percent of his 383 pass attempts. Colombi has also rushed for 308 yards and five scores.
In limited action last season as a true freshman, Fancher completed 3-of-6 passes for 46 yards and rushed five times for 18 yards.