WILLIAMSON, .W.Va. — Pete Runyon admitted he has been guilty of not wearing his life jacket, but now at age 65, he said it's rare that he's on the water fishing without it on. The habit likely saved his life on September 3rd.
Pete, who is from Pinson Fork, Kentucky and his buddy Fred "Mano" Runyon were out for a Saturday of fishing on the Tug Fork River. They were enjoying the day on a small, plastic Jon boat. About a mile downstream from the community of Thacker, a tree was situated in the water river right.
Pete was familiar with the tree. He'd had a problem there with a kayak a few years ago and normally they would maneuver around the tree. For whatever reason on this day they did not and it was a costly mistake.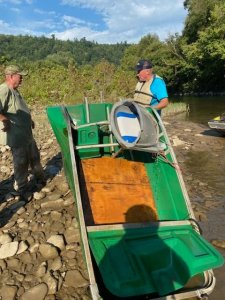 "The boat caught in the shoal and put us sideways. It put us up against that tree at the bottom of the shoal. The boat start to fill with water and within three or four seconds the boat folded up and threw us into the water," Pete said on a recent edition of West Virginia Outdoors.
Now in the water, Runyon found himself amid the submerged branches of the tree and the force of the water dragging him down.
"There's no way you could get around it and it pulled me under the tree. Had I not had my life jacket on, I would have been in serious trouble," he explained.
He managed to shove his way through the branches and was thrashing in complete panic as the current swept him downstream. He finally gave
up and put the burden on his life jacket. When he relaxed and floated, he realize he was in three feet of water and 50 yards downstream from where the accident happened.
Worried about his buddy, Pete gathered himself and worked his way back up the river to find "Mano" on top of the tree, stranded.
"As we were going in the water I told him, 'Grab your life jacket,' " Pete said.
"Mano" was now atop the tree with his life jacket on, but was facing a harrowing ordeal to get back out. He jumped into the water downstream and clear of the tree. It took him at least 200 yards down river to pull into an area where he could get out of the current.
Pete called the ordeal terrifying, but also a lesson learned.
"I'm telling you, I don't care if you're an Olympic swimmer you cannot hold the force of that water when it pins you against something and it takes you under," said Pete.
Pete shared the story on the Friends of the Tug Fork River page. There he learned he wasn't the first to deal with the notorious strainer. Several other commented they had similar encounters in that area, all of them terrifying.
"There were 8 or 10 people who indicated they had the very same problem in the very same spot. When we got the boat out we found we found  pieces of kayak and several paddles in there.," he explained.
A friend with a jet boat helped the two men retrieve their craft which was bent in half. Although the interior frame was broken, Pete said the body of the boat, which was plastic, popped right back into place. All of their fishing tackle was lost. They took a chainsaw and eliminated quite a bit of the tree in hopes it wouldn't be as likely to cause problems in the future.  But, they were both still alive to tell the story, and they hope it will serve as a reminder.
"So many people have told me they have their life jacket close and can put it on if they're going to have a problem. I'm telling you, it was just three or four seconds and were were in the water. Wear your life jacket," he said.