State Treasurer Riley Moore, whose office administers the Hope Scholarship, says its resumption is moving ahead.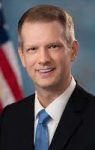 "To summarize that, we want to make everybody whole and then we want to make sure all Hope Scholarship families and students that were approved previously do not need to go through that process again," Moore said today on MetroNews' "Talkline."
A majority of the state Supreme Court last week dissolved a circuit court injunction. The Hope Scholarship was being challenged over whether it violates the state constitution's guarantee of a "thorough and efficient" education system.
The program provides money for students leaving the public school system to use for a variety of education costs. West Virginia's program also allows students old enough to enter the school system for the time to be eligible immediately.
People challenging the program say it naturally diminishes the resources of the public education system. Those who defend the program say the state can support a solid public education system while also providing the flexibility of more options.
The Supreme Court has not yet issued an opinion, but a majority went ahead with an order because use of the scholarship dollars is timely for students.
Moore said the Hope Scholarship Board is set for an emergency meeting on Wednesday to kick start the program again.
"We've already begun starting this thing right back up after the ruling. We had contingency plans in place," he said. "There are some things we have to address to get this thing back on track."
First is an emergency rule to clarify that families previously approved for the scholarship would not need to apply all over again. Second, the board will be asked to approve reimbursement to already-approved families for the full academic year, so those who have already incurred expenses this semester for private school or homeschooling with allowable expenses would receive the full year's amount.
"And obviously the funds will still go out as planned for this next semester starting in January," Moore said.
Some documentation is likely to be necessary, he said. "We will need to have some verification that they went ahead and decided to do home school or private school and they were previously approved for the Hope Scholarship."
How will @RileyMooreWV get the Hope Scholarship program restarted? What does that process look like? Riley provides context to @HoppyKercheval. WATCH: https://t.co/yCFQ3nDJuy pic.twitter.com/wVAHSRBCnc

— MetroNews (@WVMetroNews) October 10, 2022
The Legislature passed and the governor then signed a bill establishing the Hope Scholarships in 2021. Families can use the accounts for a range of expenses like homeschooling, private school tuition, online learning, after-school or summer-learning programs or educational therapies.
The scholarship amount varies each school year. For the 2022-23 year, that amount was to be about $4,300.
More than 3,000 students had already been awarded the scholarship, which would have been used for education expenses this fall, when it was halted in the court system. Without the money, they had to make other arrangements.
Senator Rollan Roberts, a Republican from Raleigh County, is also the administrator at Victory Baptist Academy. He said interest is high for using the Hope Scholarship.
"As far as my school, we're packed. We've always been packed. The Hope Scholarship will not — we will turn more people away, not be able to accept those people, which is unfortunate," Roberts said on "Radio Roundtable" on WJLS Radio.
Roberts, who is vice chairman of the Senate Education system, said many families are likely to want the flexibility the program provides.
"They are going to be seeking what is best for their child. I think that's  a win-win situation. I know people talk about, well, the public schools are going to lose some students. The bottom line is the most important thing in education is not the school system; it's the child."