A West Virginia man accused of repeatedly kicking U.S. Capitol doors and throwing a hard object over and over in an attempt to gain entry has a plea hearing scheduled for Friday in federal court.
Federal prosecutors filed a new information this month charging John Thomas Gordon of Davis with a charge of civil disorder. The charge means prosecutors are accusing Gordon of attempting to interfere with a law enforcement officer or interfering with the performance of a federal function. That felony charge comes with a possible fine and up to five years imprisonment.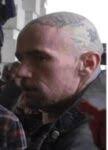 Gordon initially had faced five additional misdemeanors related to his activities at the U.S. Capitol on Jan. 6, 2021.
His plea hearing is set for 2:30 p.m. Friday before Judge Rudolph Contreras of the District of Columbia.
Gordon was arrested earlier this year after being identified through photographs of U.S. Capitol riot participants on Federal Bureau of Investigations website.
On March 3, 2021, a person providing an anonymous tip told investigators that Gordon might be the man in the photograph, according to a statement of facts filed by federal authorities.
A criminal search history showed that Gordon had several prior felony convictions in Pennsylvania and West Virginia for drug and firearms offenses, according to the statement.
Following up on the tip, Tucker County Sheriff Jacob Kopec went to the apartment building in Davis where Gordon lived. Gordon agreed to an interview and admitted being at the U.S. Capitol on January 6th, according to court filings.
Then in August, 2021, an FBI special agent interviewed a source who had a romantic relationship with Gordon. That source's name wasn't disclosed but is described as "A.A."
That person confirmed that Gordon is the man in the FBI photo and said Gordon had kicked the Capitol doors but that the doors had been barricaded. A.A. also told the FBI agent that Gordon had thrown a weighted ball at windows. A.A. said Gordon had returned from the Capitol with a trash bag full of his clothing that had been covered in pepper spray.
Investigators then identified images of the man who had been identified as Gordon repeatedly throwing the object at the door. A separate YouTube video showed the man identified as Gordon and others repeatedly throwing an object at the North Door. Another video showed the same events from a different angle.
The case is being investigated by the FBI's Pittsburgh Field Office and its Martinsburg, West Virginia Resident Agency, and the FBI's Washington Field Office.
Hundreds of people face charges from the breach of the U.S. Capitol on Jan. 6, 2021.
A mob storming the U.S. Capitol that day disrupted the constitutional duty of counting Electoral College votes and prompted the evacuations of representatives, senators and Vice President Mike Pence. One woman was fatally shot while trying to climb into the chambers, three others died from "medical emergencies" and more than 100 police officers were injured.
Of the thousands of protesters in Washington, D.C., that day, about 800 went into the Capitol, police have said.
Several more West Virginians were charged in that day's events.
They include George Tanios, a Morgantown sandwich shop operator who was accused in the assault of three Capitol police officers with pepperspray; former state Delegate Derrick Evans of Wayne County, who resigned after being charged; former Parkersburg councilman Eric Barber; Jeffery Finley of Martinsburg, the leader of West Virginia's chapter of the Proud Boy right-wing militant group; West Virginia National Guard member Jamie Lynn Ferguson; and college senior Gracyn Courtright of Hurricane.
Tanios, Evans, Barber, Finley, Ferguson and Courtright all have pleaded guilty.
Tanios has a sentencing hearing set for 11 a.m. Dec. 6 on charges of entering and remaining restricted grounds and disorderly conduct on restricted grounds.
Evans was set to be released this weekend from low-security prison in Michigan "after three months of being held captive as a political prisoner by the illegitimate Biden regime."
"Anyone who thought this experience would break me or silence me has set themselves up for disappointment," Evans said in a social media post. 
Barber is listed as an inmate at a low-security prison in Ashland, Ky., with a release date of Nov. 29.
Finley's sentencing hearing has been delayed and will be reassessed by early next month.
Ferguson's sentencing hearing is set for 3 p.m. Nov. 18  before Judge Amit P. Mehta of the District of Columbia.
Courtright was released from a month in prison on March 29. She also performed 60 hours of community service.