FAIRMONT, W.Va. — A woman from Jacksonville, Florida faces drug charges following a traffic stop for speeding.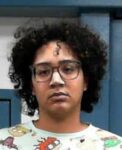 Troopers from the Marion County Detachment of the West Virginia State Police said Myranda Raymond, 30, was driving faster than the posted 55-mile-per-hour speed limit.
Reports indicate troopers smelled marijuana as soon as they approached the vehicle. When asked if she had drugs in the car, Raymond handed troopers a bag containing marijuana.
When troopers searched the vehicle they found a backpack containing larger amounts of marijuana, THC cookies and a set of digital scales.
Raymond was transported to the North Central Regional Jail and charged with possession with intent to deliver.