CLARKSBURG, W.Va. — A Harrison County woman has been indicted after allegedly threatening the Chief of Veterans Affairs Police on three separate occassions.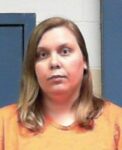 According to U.S. Attorney Bill Ihlenfeld, Courtney Sedler, 30, of Clarksburg, made the threats against Vincent Kennedy in February, March and October of this year. She faces three counts of influencing a federal officer by threat.
If convicted, Sedler could be sentenced to up to 10 years in prison and be fined up to $250,000 for each count.