MORGANTOWN, W.Va. — Longtime Monongalia County Circuit Clerk Jean Friend will retire at the end of the year.
Friend has been in the office for parts of eight decades, the longest serving public official in state history.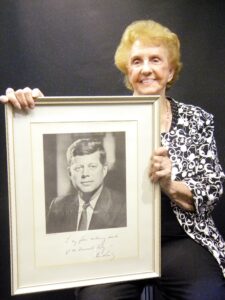 Friend's mother worked as a beautician and also was politically active which proved to be an early influence on where her career would go. Friend recently told WAJR Radio News her mother worked with people constantly.
"I was a member of the young Democrats Club and my mother was a politician, she worked on the election boards every year, so I just fell into it," Friend said.
Around late 1958, Friend was working for an attorney in downtown Morgantown and learned of an opening in the circuit clerk's office as a deputy clerk. Friend had an acquaintance that was expecting a child and working about a half day through the week, so Friend would finish the shift. According to Friend, by April 1, 1959, she went to work fulltime as a deputy clerk and in 1962 she won her first election as the Monongalia County circuit clerk.
"So I went to work the next week on a part-time basis because I didn't want to leave my attorney in the Monongahela Building in the lurch," Friend said.
Friend said she's really enjoyed the political part of the job and never tired of it. However, she said, the transition from face-to-face contact and manual order processing to electronic procedures has been a disappointment due to loss of the human contact. She said her biggest regret is leaving the political arena.
"I would encourage everyone to be interested in county government and in politics in general and make it their business to find out what's going on in that part of their life," Friend said.
Monongalia County's next circuit clerk will be Donna Hidock. She's worked in the office since 1997 and ran unopposed in this year's election.
"I'm just going to carry on the office the way it has been, if it's not broken we're not going to fix it," Hidock said. " We're going to advance a little bit, come on line with the state at some point and I'd like to thank Jean who has been such an inspiration to me."
Friend can still talk politics with the best of them.  She said she was very close friends with former West Virginia U.S. Senator Robert C. Byrd. She described Byrd as a "very, very nice man" that she always enjoyed talking to.
"Bob Byrd would call me to see what was going on in Morgantown politically," Friend said. "We were very good friends."
In terms of longevity, Friend will have served 60 years as the elected circuit clerk and another three years as deputy when she steps down on Dec. 31. That compares to 51 years of public service by Byrd and 39 years for former Marion County Clerk Janice Cosco.